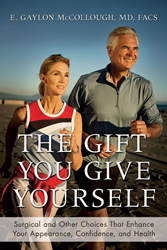 You have within you the resources to become the shining example of humanity you were created to be. – Dr. E. Gaylon McCollough, author of "The Gift You Give Yourself"

DALLAS (PRWEB)
September 01, 2020
For over three decades, Dr. E. Gaylon McCollough has given his patients the best care and results at McCollough Plastic Surgery Clinic & Skin Center and Total Health Spa. As a renowned facial plastic surgeon, Dr. McCollough created a successful, unique plan to allow everyone to feel beautiful and healthy inside and out.
Informative and inspiring, "The Gift You Give Yourself: Surgical and Other Choices That Enhance Your Appearance, Confidence, and Health" (hardcover releasing today from Brown Books Publishing Group) is a guide to help people navigate the overwhelming world of beauty, skin and health care. Dr. McCollough's holistic approach will help people find their path to better health and confidence because beauty is deeper than surface appearances. He walks readers through popular cosmetic surgical procedures, skin care regiments, diet and nutrition guidelines, providing them ways to develop well-rounded, personalized goals.
"'The Gift You Give Yourself' is a treasure – the collection of a life's work of study and practice now generously shared with the world," Dr. Jan Seward said. "[Dr. McCollough] is a true exemplar of the adage that beauty is so much more than skin deep. By addressing the whole person – body, mind, and spirit – [he] makes his patients whole."
In addition to revealing plastic surgery secrets, Dr. McCollough explains why and how a full body transformation helps people achieve their beauty and health goals. Not only will he tell how to achieve them but also how to maintain them for years to come. He wants to help everyone feel comfortable in their skin so that they can go out into the world and conquer life.
"You have within you the resources to become the shining example of humanity you were created to be," Dr. McCollough said, and "The Gift You Give Yourself" can help people learn how to use those resources to mold themselves into the person they have always wanted and can be.
For more information about the author and his book, please visit https://mccolloughplasticsurgery.com/. For media inquiries or to request a book for review, please see the contact information to the right and reach out to a member of The Agency team.
Share article on social media or email: