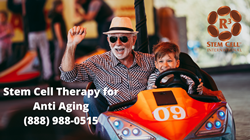 Our stem cell anti aging treatments in Mexico have been exceptionally popular due to the continued success. Cell counts are really high, with treatment being very cost effective!

SAN DIEGO (PRWEB)
June 24, 2020
R3 Stem Cell International announced a new program offering stem cell therapy for anti aging in Mexico. The program offers several options with stem cell counts up to 200 million and pricing starting at $2950.
To date, R3 International has been offering stem cell therapy in Mexico successfully for many conditions including autism, COPD, kidney failure, liver disease, heart conditions, dementia, stroke, neuropathy and arthritis just to name a few. One of the main reasons the regenerative therapies work so well is due to the modulation of inflammation, which happens to be one of the key factors in the aging process.
Stem cell therapy for anti aging at R3 International is offered by experienced, licensed doctors who have performed hundreds of cases. There are 3 options for obtaining stem cell treatment in Mexico. The first involves a one time treatment of either 30 million or 50 million cells ($2950 or $3950). If desired, R3 also offers the option for 200 million cells over a 5 day period, or with several visits over a year (starts at $8975).
The treatments at R3 International involve stem cell biologics that have been extremely safe to date. The lab includes quality assurance standards that exceed those of the FDA in the US. Culturing of the umbilical cord stem cell material does not involve the need for preservative and is restricted below 5 generations. This means the stem cells are potent with viability exceeding 93%.
The process for receiving treatment starts with a free phone consultation with one of the licensed doctors. Then treatment is booked, and R3's patient concierge representatives work with each patient on travel logistics. Support is provided throughout the process.
For more information on stem cell therapy for anti aging and to obtain a free consultation, call (888) 988-0515 or visit https://stemcelltreatmentclinic.com to learn more.

Share article on social media or email: