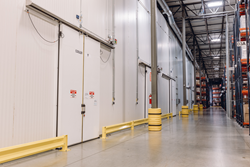 "We've seen significant, continuous growth of the market over the last five years and don't expect it to slow anytime soon," says LSL CEO Richard Beeny. "What we didn't expect was the impact of the pandemic, which only bolstered the need for FDA-regulated medical supplies' storage and distribution."

INDIANAPOLIS (PRWEB)
September 16, 2020
Responding to booming demand for FDA-regulated, temperature-controlled storage and distribution of pharmaceutical and medical devices, Life Science Logistics (LSL), a leading, national provider of healthcare supply chain solutions, today announced plans to build yet another cold-chain storage and distribution facility in Whitestown, Ind. The new facility brings the company's total Indianapolis-area footprint to nearly 1 million sq. ft.
The company attributes the demand to ongoing advances in medical treatments for diabetes, oncology, cell and gene therapies and many other diagnoses using FDA-regulated products, and to an urgent need for storage and distribution of COVID-19-related medical supplies – from rapid test kits to antigens for clinical trials to diagnostics.
"We've seen significant, continuous growth of the pharmaceutical and medical device storage and distribution market over the last five years and don't expect it to slow anytime soon," says LSL CEO Richard Beeny. "What we didn't expect was the impact of the pandemic, which only bolstered the need for FDA-regulated medical supplies – companies need to safely store and distribute these products quickly."
The new storage and distribution location in Whitestown will create up to 50 new logistics and operations jobs. Beeny expects the facility, which will add additional pallet positions for 2-to-8-degree Celsius cold-chain storage and a conveyor system for operational flexibility and speed, to be up and running in the first quarter of 2021.
The company has two existing FDA-regulated storage and distribution facilities – a 526,200 sq. ft. Brownsburg facility and a 280,000 sq.ft. Whitestown facility. The new Whitestown facility will feature best-in-class technology and automation to ensure world-class performance.
###
About Life Science Logistics

Founded in 2006, DFW-based Life Science Logistics (LSL) is a leading, national provider of end-to-end, high-quality, customizable healthcare supply chain solutions. For clients ranging from Fortune 500 companies to startups, LSL offers its pharmaceutical, medical device, and biotech clients the ability to outsource services ranging from distribution to kitting to back- and middle-office functions. FDA-egistered and VAWD-accredited, LSL operates from six locations totaling more than 2 million square feet of cGMP compliant space.
Share article on social media or email: