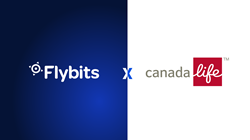 "Together, we've built an incredible platform that will undoubtedly further our commitment to supporting our customers' health and well-being."

TORONTO (PRWEB)
March 31, 2021
Flybits, the leading digital experience platform for financial services, has announced the successful launch of data-driven, contextual personalization on Canada Life's GroupNet app. In 2020, Canada Life launched personalized offers with the objective of delivering high-impact experiences to its customers through their app.
"When we teamed up with Flybits, we were looking for a new and innovative way to connect and service our customers as we continue our digitalization journey," says Ryan Weiss, Vice-President of Product and Experience at Canada Life. "Together, we've built an incredible platform that will undoubtedly further our commitment to supporting our customers' health and well-being."
Since its launch, Canada Life has deployed dozens of such experiences including the Best Doctors program, credit counseling, and several initiatives to promote health and wellness. Through these notifications, customers can learn more about their benefits and save time and money. For instance, they can receive reminders to use their wellness account, sign up for direct deposit, download their benefits card to their mobile device, and more.
"Canada Life has taken a bold step in its digital transformation efforts, offering their customers data-driven digital experiences that few organizations in their industry are providing today," says Brian Jamieson, Chief Operating Officer at Flybits. "It's exciting to be part of their journey as one of the first insurance companies in the world to offer this degree of customer engagement at scale."
In the coming year, Canada Life will initiate additional, contextually-aware experiences that will continue to support their customers' well-being.
Media Contacts

Jannine Krish

Director of Marketing, Flybits

Telephone: +1 416 666 3707

Email: jannine.krish@flybits.com
About Flybits

Flybits is the leading customer experience platform for the financial services sector, delivering personalization at scale. With the most advanced capabilities in the market, its enterprise-level solution brings relevant content, products, offers, and information to a bank's digital channels based on what each individual customer needs in the moments that matter. With Flybits, banks are able to design, launch, and measure data-driven consumer experiences that deliver the right information to the right customer at the right time, while preserving their privacy.

For more information, visit http://www.flybits.com.
About The Canada Life Assurance Company

Canada Life is a leading insurance, wealth management and benefits provider focused on improving the financial, physical and mental well-being of Canadians. For more than 170 years, individuals, families and business owners across Canada have trusted us to provide sound guidance and deliver on the promises we've made.
On January 1, 2020, Great-West Life, London Life and Canada Life became one company – Canada Life, and today, we proudly serve more than 12 million customer relationships from coast to coast to coast.
Follow us on Facebook, Twitter, Instagram, YouTube, and LinkedIn.
Share article on social media or email: