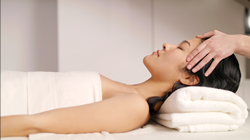 "Massage is an excellent way to relieve stress, anxiety, tension, worry, and even depression, and it can be easily incorporated into one's wellness regimen at home and work. Plus convenient on-demand services like Soothe deliver the massage therapist directly to your home, office, or hotel."

LAS VEGAS (PRWEB)
September 09, 2019
As this country turns toward National Mental Illness Awareness Week, Oct. 6-12, Michelle Ebbin, massage therapy expert and author of The Touch Remedy, believes that holistic practices like massage therapy can play a greater role in helping people keep their mental health in check. She also offers ideas on how to incorporate massage into one's routine at home and also at work.
"Massage has been scientifically proven to lower the stress hormone cortisol while increasing the release of feel-good hormones (endorphins) in the body," says Ebbin, a former massage therapist who frequently appears on national TV to discuss the wellness benefits of massage. "Massage is an excellent way to relieve stress, anxiety, tension, worry, and even depression, and it can be easily incorporated into one's wellness regimen at home and work." According to American Massage Therapy Association, a review of more than a dozen studies concluded that massage therapy helps relieve depression and anxiety by affecting the body's biochemistry. Massage therapy also promotes better sleep.
Maintaining Mental Health At Home & Work

She says, "At home, I recommend getting a massage on a monthly basis so that you're not bearing loads of stress and tension that gets unintentionally released in your interactions with partners or family members. There are many types of massage you can request, such as Swedish, deep tissue, sports, reflexology, as well as assisted stretching, which can suit your desired level of intensity, as well as address specific needs. And, they can be combined with other holistic practices like yoga, meditation, and ongoing exercise to relax the body and mind. Plus convenient on-demand services like Soothe (http://www.soothe.com) deliver the massage therapist directly to your home, office, or hotel room with at little as 60 minutes advance notice, which makes it very easy so you don't have to drive anywhere."
"Given that so many employees experience work overload or workplace burnout, having a workplace benefit of weekly chair massage or assisted stretching can really change an employee's outlook for the rest of the day or even the entire week! Even a brief respite of 10-15 minute massage can make a world of difference in stress levels, and massage is a wonderful way to start the week because it improves mental clarity, focus and boosts energy levels."
Self-Massage Option

She adds, "Alternatively, if workplace massage is not an employee benefit, and you don't have a budget for regular massage, you can always buy a simple self-massage tool for less than $30 to massage tense neck, shoulder and forearm muscles which work extra hard when you sit at the computer for extended periods. I recommend using the self-massage tool for 5-10 minutes during your breaks. You can also buy small 'tune up' balls for use at home, which you can roll your back, neck, shoulders, and legs onto, to loosen stiffness and tightness. I recommend doing this for at least 10-15 minutes daily. Plus, doing deep bends where you fold over at your hips and allow the upper body to hang like a 'rag doll' to release back and neck tension."
For more information about Michelle Ebbin and her book, visit basicknead.com.
Soothe, the world's leading on-demand massage service and app, lets users schedule a same-day massage in the privacy of their home or hotel. It also offers workplace massage through its corporate massage program Soothe At Work. Headquartered in Las Vegas, Soothe currently serves 70 markets across the United States, Canada, United Kingdom and Australia. For more information about Soothe, visit soothe.com or call 833-276-6843 for more information.

Share article on social media or email: