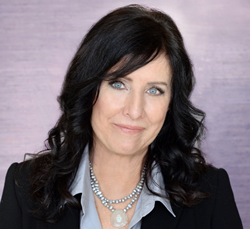 With almost 20 years of experience closing multi-million dollar deals and breaking the glass ceiling in the man's world of insurance brokerage, Therese Allison provides a success roadmap with new tools in her self-help memoir, "Playing for Keeps."

LOS ANGELES (PRWEB)
April 29, 2021
Successful Businesswoman, Mom and Mentor Therese Allison announces a new "Business Cheerleader" brand, "Playing for Keeps" book cover and ThereseAllison.com website. Allison's goal is to help more people achieve their dreams by highlighting her business success secrets, life skills tips, and new tools based on becoming financially independent at age 38 and retiring early at 43 to spend quality time with her children.
Allison expands on these updates, "After reading the book reviews and doing media interviews, I have found that people are most interested in my career success story as a woman who broke barriers in the highest levels of business."
With almost 20 years of experience closing multi-million dollar deals and breaking the glass ceiling in the man's world of insurance brokerage, Allison provides a success roadmap with new tools, including:


1) 16 "Pearls of Wisdom" – Allison's lessons learned teach how to build allies, close deals and gain confidence to become unstoppable.

2) "Velvet Glove for Women" – How to be feminine but firm, funny but smart in a world of businessmen.

3) "Lucy Moments" – Allison developed "Lucy Moments" based on Hollywood Legend Lucille Ball's business success skills. The author explains how to use humor to build allies, diffuse big egos, and bounce back from failures to advance your career.

4) Synchronicity Power – Allison shows how synchronicity had a powerful impact on "Playing for Keeps," and steps to take to manifest success. Combining manifestation with synchronicity can help attract the right people and results at the right time
Using these self-taught skills, Allison broke the glass ceiling as the first female producing Partner in an insurance brokerage company tied to Lloyd's of London where for 300 years, women weren't allowed on the underwriting floor.
Book reviews by media and readers have described "Playing for Keeps – How a 21st century businesswoman beat the boys" this way:
"The book is a portrait of a successful businesswoman, but also a love letter to Allison's family heritage." – Matt Szabo, The Los Angeles Times

"Business adventures and a bold family's history merge in this compelling, entertaining and fact-filled narrative….the author weaves clear personal leadership take-aways into her own challenges and aspirations." – Bruce Craven, Faculty, Columbia Business School, Executive Education

"After reading "Playing for Keeps", I went through several rounds of interviews for two DA's offices. Out of 100 applicants, I was fortunate to be offered both jobs. The whole time I was thinking about your tips to success, especially at times when I was the only female in the room." – Kaitlin R.

"Therese Allison presents us with a book that is in part a family memoir and in part an insight into the mindset of an extremely successful businesswoman. I laughed, I cried and I scribbled down lessons I wanted to learn." – Artisan Book Reviews.
Allison believes all of these brand changes are a result of synchronicity or a series of "meaningful coincidences," which are described in her new blog. The author dedicates "Playing for Keeps" to her father Gould Allison, who she thanks for being "her biggest cheerleader," which inspired her "Business Cheerleader" brand.
The author is now busy mentoring her three children and others to excel in business and life. Allison's son posted her "16 Pearls of Wisdom" above his desk while attending UCLA, and at age 27, became one of the youngest Principals for a multi-billion corporation headquartered in New York.
AMAZON

"Playing for Keeps: How a 21st century businesswoman beat the boys" (2020)

(Available in hardcover, paperback and ebook/Kindle formats)

https://www.amazon.com/PLAYING-KEEPS-century-businesswoman-boys/dp/1735088609
MEDIA CONTACT:

Liz Kelly, 310-987-7207
ABOUT THE AUTHOR: THERESE ALLISON (Huntington Beach, CA, grew up in La Canada, CA near Hollywood, born in Hollywood) is a self-made success story, mom and Author of "Playing for Keeps – How a 21st century businesswoman beat the boys" (self-help memoir) who EMPOWERS women and men to succeed in business and life. To help others learn from her experience, Allison openly shares how she became financially independent at age 38, and retired early at 43 to spend quality time with her children. Today, Allison is busy mentoring her three children and others to succeed in business and life. Her work has been seen in the Los Angeles Times, MSN, GoBankingRates, Yahoo! Finance, Yahoo! Sports, Shout Out LA, Authority Magazine, Thrive Global, Huntington Beach News, KVTA News Talk 1590 Girls on the Air Show, Great Books Great Minds, A Dime Saved and more http://thereseallison.com/
Share article on social media or email: