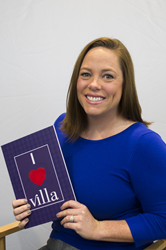 April's growth is remarkable, and a testament to her hard work and learning agility. She embodies Villa's core value of 'making people better' and is an example of that in her approach to developing her own skills and abilities." Dave Devereaux, Chief Operating Officer

SKOKIE, Ill. (PRWEB)
September 12, 2019
Villa Healthcare, a leader in skilled nursing, proudly shares that April Doremus, Vice President of Engagement, has been selected as North Shore's Women in Business: Young Professional winner for 2019. North Shore's Women in Business is a peer-nominated honor, decided by a professional review committee from 22nd Century Media. April will be honored at award luncheon at the Chicago Botanic Gardens in Glencoe, IL.
April joined Villa in February 2016 to create and launch a Service Excellence Program. Two years later, after demonstrating her skills and ability, she was promoted to VP of Engagement to spearhead innovative programs to evolve the organization's employee-centric work culture and enhance patient satisfaction on both clinical care and service delivery levels. She previously directed sales for Choice Hotels, InterContinental Hotels, Extended Stay Hotels and Starwood Hotels. April has her Bachelors in Family and Consumer Sciences and Hotel/Restaurant Management from Western Illinois University.
April's colleagues shared feedback on her and her win:

"It's not often that you meet an individual like April who is so focused and committed to making people better, and actually has the energy, creativity and passion to make it happen. Our organization is lucky to have her and I'm thankful that she is a part of the Villa team." – Mark Berger, Chief Executive Officer

"April's energy and unwavering commitment in placing our employees at the center of all we do directionally leads our teams. Her vision of creating and maintaining an environment of employee-centric care is one way in which her leadership supports our philosophy of Making People Better." – Michelle Scherwinski, Chief Nursing Officer

"April joined Villa with a deep understanding of customer service and hospitality, and quickly applied her skills to the more demanding environment of skilled nursing. In just over three years, April's knowledge has broadened, and her talents created new executive opportunities, including responsibility for communications and workplace safety. April's growth is remarkable, and a testament to her hard work and learning agility. She embodies Villa's core value of 'making people better' and is an example of that in her approach to developing her own skills and abilities." – Dave Devereaux, Chief Operating Officer

"April is a recruiter, not only in the HR-sense of the word, but she has the ability to show others what she's passionate about, get them motivated to join her and further the initiative. She works along-side her colleagues; building relationships, encouraging growth, and committing to accomplish the hard work. April's ambition for progress is exciting to see and you can't help but want to be a part of it." – Marianne Marcocig, Senior Vice President of Operations

"It's not easy to influence others, but it is a vital ability in leadership which requires understanding people, their motivations, and how to utilize that insight to leverage performance and positive outcomes. April not only influences people, she inspires them to be better and go beyond their own capabilities. She sees beyond the job title and treats others with humanity and compassion. Her leadership has helped me grow as a person, not just as an employee, something for which I will be forever grateful." – Toni Fimowicz, National Director of Organizational Development

"I have worked with April for more than three years and she is the type of colleague that you become instant friends with. I am lucky to have her as a colleague and friend. April's ability to organize and install systems has taught me, in my role, how to be a better leader and strategist." – Avi Lev, Chief Marketing Officer

"Leader, colleague, mentor & friend – that is how I would describe April. She's helped me grow personally and professionally. April offers guidance through hardship and encouragement towards success. I not only trust and respect her, but most importantly aspire to emulate her." – Nicole Choudoir, Engagement Coordinator

"I've had the privilege to work with April Doremus for several years and her leadership style is rare. She has a passion and willingness to invest in her team not only as professionals, but also as people, which inspires me to be a better manager. At Villa we pride ourselves in our employee-centered culture, and April's day-to-day words and actions support our mission of Making People Better. I'm thankful to continue learning from her every day." – Hannah Schutte, Employee Centered Care Program Manager

"From April, I've learned that a leader needs to loyally follow what they know to be right and true, even if others don't see your vision in the beginning. That passion will help you withstand the challenges, the work, the change, the resistance and ultimately lead you to the growth. Others may not understand your vision and your passion until you can prove the results through the growth." – Linsey Cherveny, Communications Manager

We're Villa, and we make people better. Of course, we're focused on quality care and good outcomes. But we're here to do so much more. Villa's leadership has a vision of rising above the status quo—of never settling, and of shattering the old image of this industry. We've always wanted to be a part of something greater, and we're making that a reality. Our commitment to our people, our environment and clinical programs will allow us to fulfill our mission of making people better. For more information, please visit http://www.VillaHC.com.
Share article on social media or email: