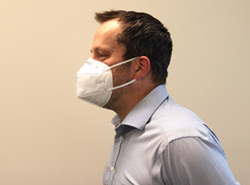 "All of our masks are manufactured to medical standards in FDA-certified factories, which ensures every mask is high-quality. Our mission as a company is to provide high-quality yet affordable protection equipment to help the public safely continue its fight against COVID-19."

CHICAGO (PRWEB)
June 26, 2020
The Coronavirus pandemic created shortages in Personal Protection Equipment (PPE) for essential workers and the general public. As a supplier of top-quality masks, sanitizers and thermometers, Trusted PPE is a woman and minority-owned company, and is a direct source for PPE equipment. President Priya Agarwal observed, "All of our masks are manufactured to medical standards in FDA-certified factories, which ensures every mask is high-quality. Our mission as a company is to provide high-quality yet affordable protection equipment to help the public safely continue its fight against COVID-19."
In line with FDA regulations, the four-layer KN95 face masks available through Trusted PPE filter 95% of airborne particles. According to the Mayo Clinic, a KN95 mask offers more protection than a surgical mask. It can filter out both large and small particles when the wearer inhales. Ideally, all people wearing masks to prevent the spread of COVID-19 can benefit from instruction on how to confirm a proper seal in a KN95 mask. Details on proper fitting can be found on https://trustedppe.com/.
The KN95 masks from Trusted PPE feature a comfortable nose-bridge design and skin-friendly fabric to prevent irritation, a critical need during summer months. The disposable mask can also be used year-round in all weather conditions to help keep people safe from air-borne diseases. Shelf life is five years from date of purchase.
The masks produced for Trusted PPE are designated for non-medical use according to the FDA, and are marked for civilian use only. A critical supply of masks is now available through https://trustedppe.com/. The masks are manufactured according to FDA standards in both in the United States and China.
"We also encourage customers to visit our website for FEMA fact sheets on COVID-19 relative to frontline occupations and effective use of masks and other health protection equipment and supplies," Agarwal said. "These are helpful resources for everyone in a wide spectrum of professions and social circumstances. We also provide frequent Center for Disease Control updates to help keep the public informed on the latest safety and precaution measures."
###
About Trusted PPE:

Trusted PPE was created to help people stay healthy and safe during the Coronavirus and COVID-19 pandemic. The company's commitment to the cause of public health and safety is to make high quality PPE equipment and supplies available to the public at affordable rates and in quantities sufficient to help companies protect their workers. All the protection sold at https://trustedppe.com/ meets the highest standards in quality and reliability. All manufacturers and suppliers are hand-picked and FDA-certified.
Share article on social media or email: