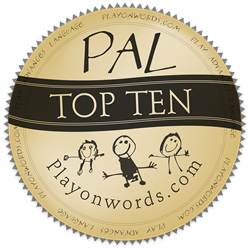 The difference between the almost right word and the right word is really a large matter. 'tis the difference between the lightning bug and the lightning

Wilmington, NC (PRWEB)
November 12, 2020
Regular interaction with children guides Playonwords founder, Sherry Artemenko, to a unique set of the best toys, games, books and media that have the chemistry to develop language while delivering great play. Today, Playonwords is announcing its annual "Top 10 PAL Picks for 2020/Holiday Gift Guide" by age and product category. Our Top 10's take the guesswork out of giving great holiday gifts. Parents and grandparents use our lists to shop for smart toys with lasting play value.
Winners are assessed and reviewed by Sherry with input from parents, kids and educators. Observing kid's play in action, combined with her critical eye for language potential, Sherry awards products and writes insightful reviews offering practical tips on how to maximize the educational value in each winner catalogued on playonwords.com.
Language catalyzing PAL winning toys and games are powerful additions to a child's tool box, since children learn through play, and language is integral to learning! Our 2020 Top 10's include a number of great winners that inspire imagination and story-telling with engaging props, from Schleich's "Large Dino Research Station" and "Sago Mini Box" by Spin Master to the "Magna Tiles Structures—Galaxy Rocketship." Promoting children's literacy skills is a strong theme throughout this year's winners, often combined with STEM skills as children build and learn letters, corresponding sounds, words and reading skills with "Jabuka" by Jabuka Games Inc.,"Is or Isn't by SimplyFun and "Jambo Books." The toy industry continues to value new toys and games to build EQ (emotional quotient including social language skills) with exciting tools like "Whatsitsface?," "Speak & Learn Puppy Dog" by Leap Frog, and "A Year of Kindness Calendar" by MindWare.
Sherry's expertise has been tapped by NBC Connecticut TV, FOX TV News 6 Milwaukee, Parents Magazine, The Chicago Tribune, San Francisco Chronicle, parents.com, parenting.com, ASHAsphere (official blog of the American Speech Language Hearing Association), and ASHA LEADER magazine.
For Sherry, great play is not just about fun, or language development, it's about going deep in both. Her expertise has been built on science and more than 17,000 hours of client experience. Each set of Top 10's represents a breadth of themes and genres, but they all have one thing in common – they are trusted lists of fun products that boost learning through play.
Here are 2020's Top 10 PAL Picks – See her reviews at http://www.playonwords.com
TOP 10 TOYS: INFANT

Be Brave Little Ones by Marianne Richmond

Count & Win Sports Center by VTech

Seek-a-boo Flip-and-Find Word Cards by MindWare

The Lord is My Shepherd: A Psalm 23 Pop-Up Book by Agostino Traini

Tinkle Crinkle Activity Ball by Baby GUND

Tinkle Crinkle Activity Toy by Baby GUND

Tinkle Crinkle Birdie Lovey by Baby GUND

Tinkle Crinkle Caterpillar by Baby GUND

Tinkle, Crinkle Play Mat by Baby GUND

You Are a Gift to Me by Sandra Magsamen
TOP 10 TOYS: TODDLER

Bebe Bath Calypso by Corolle

Blues Clues & You! Really Smart Handy Dandy Notebook by LeapFrog

Easy-Clean Fingerpaint Set by Crayola

Fun Fan Fryer by Hape

Go! Go! Cory Carson Cory's Stay & Play Home by VTech

Kinetic Sand Scented Sand by Spin Master

Pick Up and Count by LeapFrog

Purrfect Counting Purse by LeapFrog

Speak & Learn Puppy by LeapFrog

Toddler Kitchen Set by Hape
TOP 10 TOYS: PRESCHOOL

Brio Builder Record & Play Set

Disney The Little Mermaid Tubby Time by Ravensburger

Helping Heroes Fire Station by VTech

Jiggle & Giggle Fishing Set by VTech

Mealtime Magic by Spin Master

Pop Oh Ver Ice Cream Set by Salus Brands LLC

Ready Freddy – Spray 'n' Sprinkle by YooKidoo

Sago Mini Box by Spin Master

Unicorn Baking Set by Hapinest

Whatsitsface
TOP 10 GAMES: PRESCHOOL

Bandit's Memory Mix Up by Peaceable Kingdom/MindWare

Ecologic Memory Game: Animals at Risk by Adventerra Games

Ecologic Puzzle: Respect the Earth by Adventerra Games

Ecological Puzzle: Saving Water by Adventerra Games

Is or Isn't by SimplyFun

My First Rush Hour by ThinkFun

Panda's Picnic in the Park by Peaceable Kingdom/MindWare

Preschool Flash Cards Learning Bundle by Think Tank Scholar

Smoosh and Seek Treehouse by Peaceable Kingdom/MindWare

Turtle Steps by Hapinest
TOP 10 TOYS: SCHOOL AGE

A Year of Kindness Calendar by MindWare

Chalk of the Town by Origin8 Studio LLC

Gravitrax Tunnels, Jumper and Zipline by Ravensburger

Just Add Baking Soda by Griddly Games

Large Dino Research Station by Schleich

Magna Tiles Structures–Galaxy Rocketship

Paper Flower Science Kit by Crayola

Science Academy: Deluxe Squishy Ball Lab by MindWare

See My Feelings Mirror by hand2mind

Vet Practice with Pets by Schleich
TOP 10 GAMES: SCHOOL AGE

Candygrams by Candygrams LLC

Global Warning by Adventerra Games

Jabuka by Jabuka Games, Inc

PowerHaus by Adventerra Games

Slappy Camper by MindWare

Splurt! by Gamewright

Stories of the Three Coins by MindWare

Story Time Chess

Telestrations: Upside Drawn by Usaopoly | The Op

The How I Survived Game by MindWare
TOP 10 BOOKS AND MEDIA

Be You! By Peter H. Reynolds

Duolingo ABC by Duolingo

Every Night Is Pizza Night by J. Kenji Lopez-Alt

Jambo Books

KidiZoom Creator Cam by VTech

LeapStart Preschool Success by LeapFrog

My Kindness Journal by MindWare

The Day You Begin by Jacqueline Woodson

The Truth About Grandparents by Elina Ellis

VersaTiles Introductory Kits by hand2mind

Each holiday season, millions are spent on kids' toys, games and books. These PAL winners above are not only great fun but also encourage rich language development. Think "tastes like ice cream, fortifies like spinach," optimizing your toy purchases to build language while maintaining all the fun. Now's the time to be intentional about your child's toy chest, game drawer, bookshelf and tablet!
ABOUT PLAYONWORDS, LLC

Playonwords.com was founded by well-respected speech-language pathologist, Sherry Artemenko. Her 35 years championing language rich play, esteemed PAL Award, popular blog, and insightful tips to parents set her apart as the leading advocate for the language component in toys.
Over 17,000 hours working directly with children has shown her that a unique set of the best toys, games and books have the capability to develop language while delivering great play. Studies show:
Kids with highest IQs at three, had the most words at one and two

Language learning is cumulative – early words => early sentences => language & reading

Most kids maintain their verbal advantage through childhood

Creative pretend play that sparks story-telling can advance future literacy
Sherry established the PAL Award to identify unique toys, games and books that through their design, quality and character, encourage play that advances language. PAL winners in the hands of kids, spark fun and creative play with lots of talk. Such toys, recognized on the basis of her child development expertise, are complemented by practical coaching in her blog, showing parents and caregivers how to get the most from toys, games and books to build language and underlying cognitive skills.
Share article on social media or email: