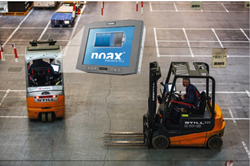 The new logistics PC guarantees reliability in efficiency, speed, and data security.

CHARLOTTE, N.C. (PRWEB)
June 24, 2020
The on-board mobile computer is an essential hardware on forklift trucks and ground conveyors. Dips in the power supply during the start-up process or when you have to change the vehicle battery, can cause the device to shut down abruptly. This can cause significant data loss. The solution: noax's new logistics terminal with integrated UPS battery. With noax's newest product, all data is retained and tasks can be completed without unwanted interruptions.
Individually adjustable

The new logistics terminal includes various settings enabling users to customize the unit as needed for their unique applications. It can also be configured to automatically shut down safely.
Additional safety measures

An ignition key function can be added to the computer offering additional safety features. This function enables the vehicle computer to turn on automatically when the operator starts the forklift ignition. It can also shut it down automatically by turning off the ignition – with a preconfigured time delay, if desired. Additional safety functions can easily be implemented using a digital input. This gives the ability to automatically deactivate the display or lock the touchscreen when the vehicle is in motion. The logistics PC also has a "deep sleep" feature preventing the vehicle battery from being drained. All configurations of the integrated UPS battery and safety functions can be set using the noax configuration tool, nSMART.
Direct connection to the vehicle power supply

Like all industrial computers manufactured by noax, the 12" logistics terminal with the integrated UPS battery is not only rugged and versatile, it also offers significant convenience. Input voltage disruptions are filtered out by the UPS battery and the logistics PC can be connected directly to 12V, 24V, 48V, or 60V vehicle electrical systems.
Space saving and reliable

This impressive industrial computer uses less space, installs quickly and easily, and boasts a rugged and reliable construction. The new logistics PC guarantees reliability in efficiency, speed, and data security.
For more information, go to http://www.noax.com.
Share article on social media or email: