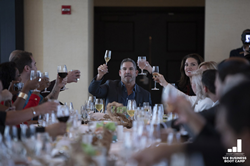 "This event just helped me close a $14 million deal."

MIAMI (PRWEB)
June 26, 2020
This elite, 3-day business bootcamp will be held at the JW Marriott Turnberry Resort in Aventura, Florida on July 17-19. Grant Cardone teaches strategies for scaling a company, filling the pipeline with sales qualified leads, finding and hiring a talented team, training that team to produce, and closing big deals with dream clients. The 10X Business Bootcamp is designed to guide aspiring millionaires and billionaires in building strong marketing and sales plans for their businesses, and how to execute on these plans.
Attendees travel from around the world to invest three days in learning from Grant Cardone and his team, taking their business and life to heights they've only ever dreamed of. 2019 attendee, Roberta Ingletto said, "This event just helped me close a $14 million deal." Eric Cline, another 10X student, said "Since I started working with Grant, my business has increased by 84%."
You'll know if the 10X Business Bootcamp is for you if…
1. You're not hitting the sales numbers you need

2. You've hit a wall in your growth

3. You're not making the money you want to be making

4. You don't have a clear sales, marketing, or business strategy

5. Your team isn't producing

6. Your team is not motivated to make money

7. You don't know how to scale your business

8. You have questions

9. You want more out of your business and life

10. You want to expand your network of high-earning individuals
Daymond John endorses Grant Cardone as a man who "will help you build a sales machine," and Russell Brunson calls Grant Cardone a "monster social media marketer." Time with Grant Cardone has transformed thousands of businesses and changed millions of lives. Miss this event, and risk not changing yours.
Share article on social media or email: