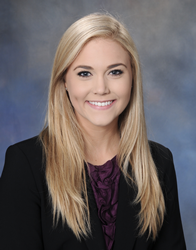 "I'm honored to join Austin's most well-regarded facial plastic surgery team," noted Dr. Kennedy. "I'm extremely passionate about my work and look forward to serving our clientele and helping them to achieve their goals."

AUSTIN, Texas (PRWEB)
July 08, 2021
The Buckingham Center for Facial Plastic Surgery is proud to welcome a new fellow, Dr. Paige Marie Kennedy, MD. The center announced today that Dr. Kennedy would be replacing Dr. Lafer, who has accepted a position in New York.
Dr. Kennedy earned her Doctor of Medicine degree from Baylor College of Medicine in Houston, TX in 2016. She received an SRF Leadership Grant from the American Academy of Otolaryngology in 2019 and, as a member of the American Academy of Otolaryngology – Head and Neck Surgery, has been serving as a Section for Residents and Fellows representative since 2017. In addition to her education, Dr. Kennedy has published multiple peer-reviewed papers including The Aging Face. Med Clin North Am. (2018) and the book chapters Rhytidectomy and Rhinoplasty for In: Crush Otolaryngology Boards, Volume 2. Nova Science Publishers (2019). She is also an active researcher and is currently studying "The Effect of Oral Dexamethasone on Postoperative Pain Following Pediatric Adenotonsillectomy."
"I'm honored to join Austin's most well-regarded facial plastic surgery team." Noted Dr. Kennedy. "I'm extremely passionate about my work and look forward to serving our clientele and helping them to achieve their goals."
Dr. Buckingham and the team also expressed their excitement at Dr. Kennedy joining the team, saying, "It's a pleasure to welcome Dr. Kennedy as a fellow at The Buckingham Center. We always strive for an amazing experience and result for our patients and we know that Dr. Kennedy shares our vision wholeheartedly. It's wonderful to have her on board."
Dr. Buckingham continued, "We are sad to see Dr. Lafer go, but she is joining a prestigious practice in NYC and we wish her well there."
About The Buckingham Center
The Buckingham Center for Facial Plastic Surgery is widely recognized as one of the Austin area's best providers in surgical and non-surgical facial and body cosmetic procedures. Patients come to us for the meticulous work of Drs. Buckingham, Smith, and now, Dr. Kennedy, who all strive to achieve the most natural result for patients, releasing the beauty that patients already possess.

Share article on social media or email: