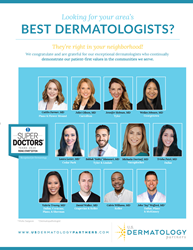 "We value the clinical expertise of our physicians as well as their dedication to providing excellent and ethical patient care experiences and are pleased that they are being recognized for their excellence in their specialty." Said Paul Singh, CEO

DALLAS (PRWEB)
June 24, 2020
Twelve U.S. Dermatology Partners doctors are being recognized by their peers as Super Doctors® Rising Stars in the July 2020 issue of Texas Monthly. Of those, six are new to the list.
The selection process for Super Doctors is a rigorous process designed to identify physicians who have attained a high degree of peer recognition and professional achievement. Each year, Texas Monthly asks doctors across the state to nominate colleagues (excluding themselves) who they would trust for their own medical care. The Super Doctors research team then investigates independently. Candidates are evaluated based on peer recognition, professional achievement, and disciplinary history. The highest-ranking nominated physicians are asked to serve on a selection panel, which helps to determine the final list of Super Doctors. The final list represents 5% of Texas physicians.
Doctors recognized as Rising Stars meet the same criteria as Super Doctors and have been actively practicing for 10 years or less. Only 2.5% of all active physicians are selected to the Rising Star list. The physicians being honored represent cities throughout the state of Texas.
"The U.S. Dermatology Partners team is proud of our Texas physicians for their achievement in receiving the well-deserved Rising Star award. Six of the recognized physicians are new to the list which is a testament to the quality of the physicians in our group. We value the clinical expertise of our physicians as well as their dedication to providing excellent and ethical patient care experiences and are pleased that they are being recognized for their excellence in their specialty." Said Paul Singh, CEO
The complete list is published in the July 2020 issue of Texas Monthly.
U.S. Dermatology Partners Rising Stars 2020

Recognized for Dermatology
Caitlin Farmer, M.D., Flower Mound, Plano

Juliet Gibson, M.D., Carrollton

Jennifer Holman, M.D., Tyler

Weilan Johnson, M.D., Georgetown

Laura Lester, M.D., Cedar Park

Bobbak Mansouri, M.D., Tyler

Michaela Overturf, M.D., Nacogdoches

Trisha Patel, M.D., Dallas

Valerie Truong, M.D., Dallas, Plano

Daniel Walker, MD, Grapevine

Calvin Williams, M.D., Keller

John "Jay" Wofford, MD, Dallas, Plano
About U.S. Dermatology Partners

As one of the largest physician-owned dermatology practices in the country, U.S. Dermatology Partners' patients not only have access to general medical, surgical, and cosmetic skin treatments through its coordinated care network, but also benefit from the practice's strong dermatology subspecialty thought leaders and medical advisory board. To be the best partners to its patients, U.S. Dermatology Partners is fervently focused on providing the highest level of patient-first care, and its team, therefore, includes recognized national leaders in areas such as clinical research, psoriasis, and Mohs Surgery. To learn more, visit usdermatologypartners.com.
Share article on social media or email: