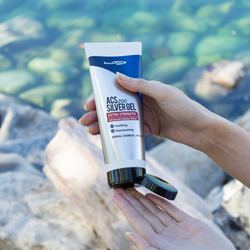 Results RNA has re-released its ACS 200 Silver Gel with new and improved packaging

OREM, Utah (PRWEB)
July 08, 2021
Biopharmaceutical company Results RNA has re-released its ACS 200 Silver Gel with new and improved packaging: a sleek black squeeze bottle that is both convenient and simple to use. With over one million applications and counting, Results RNA is excited for even more people to experience the magic of the most effective 200 ppm topical silver gel available.
ACS 200 Silver gel is a skin rejuvenating clear topical gel available in 2 oz and 8 oz bottles.
This soothing and rejuvenating formula has active ingredients Advanced Cellular Silver and Advanced Cellular Glutathione. ACS Silver Gel supports overall skin health and can be applied to both face and body.
Specifically, ACS 200 Silver Gel can be used for post-sun exposure, post-skin treatment, blemishes, underneath masks, skin redness, dry skin, sensitive skin, burns, cuts, scrapes, irritation, and more.
Benefits include noticeably smoother, healthier, and brighter skin with reduced redness, itchiness, swelling, irritation, and dryness.
While other topical creams and ointments can damage the skin, ACS 200 Silver Gel provides these exceptional effects without harmful chemicals and is odorless, hypo-allergenic, and non-comedogenic.
ACS 200 Silver Gel is the only topical silver utilizing Advanced Cellular Technology—technology that Results RNA has been perfecting for over 20 years. This allows for greater efficacy and bioavailability.
To learn more about the many benefits of ACS 200 Silver Gel and its new and improved packaging, please visit: https://www.resultsrna.com/acs-200-silver-gel/
Share article on social media or email: