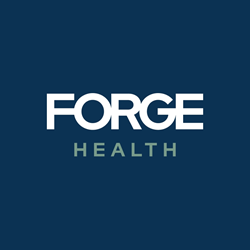 Our unifying name and look are key steps in progressing from individual locations to a more visible, integrated health system."

NEW YORK (PRWEB)
April 05, 2021
Sister companies Strive Health and Veteran & First Responder (VFR) Healthcare (the "Company") today announced that they are rebranding under a unified brand, Forge Health. The new name has been chosen to reflect the Company's evolution and strategic focus on its technology-enabled model that integrates digital health and in-person mental health and substance use treatment as well as its expertise in driving the innovations needed to shape the future of behavioral health care.
"We continue to be a mission-driven behavioral healthcare company dedicated to challenging traditional industry thinking to increase access, lower costs, and improve quality," said Eric Frieman, CEO of Forge Health. "The overall aim of our strategy and new name is to build on the strong reputations of our many achievements and bring that same commitment into the future as Forge Health, the technology-enabled behavioral health system of the future."
Formed in 2016, Strive Health and VFR Healthcare have grown hand-in-hand into a leading provider of outpatient behavioral health services. The health system includes more than six outpatient facilities across five states, a first-of-its-kind strategic partnership with the U.S. Department of Veterans Affairs, and many innovative partnerships with employers and health plans. In the past year, the Company has achieved tremendous growth and has significantly enhanced its technology-enabled treatment capabilities to deliver the highest-quality care when and where clients need it – delivered virtually from the comfort, privacy, and convenience of clients' homes or in-person at beautifully-designed, welcoming technology-enabled offices.
Frieman continued, "our unifying name and look are key steps in progressing from individual locations to a more visible, integrated health system working together to deliver excellence across the full continuum of outpatient behavioral health care. The new brand will create an easily identifiable, streamlined brand and will help tremendously to eliminate brand confusion among our clients, referral sources, and stakeholders."
Continuing the VFR Reputation and Legacy with the New Brand
Due to VFR's strong brand equity and ties to the Veteran and First Responder communities, the Company will continue to operate its current VFR entities and programs under the Forge corporate umbrella, using the VFR brand name, Forge Veteran and First Responder services ("Forge VFR").
"As part of the rebrand transformation, while it is important for us to have a unified health system name, we recognize that the VFR Healthcare brand has a tremendously strong reputation in our communities, especially among the active-duty servicemember, Veteran, and First Responder populations," said Eric Golnick, Executive Vice President of Forge Health and CEO of Forge VFR. "We want to communicate our brand identity and emphasize that we are one, integrated health care system, while also building on the VFR brand."
New Brand Identity and Launch
The move to Forge Health includes an entirely new brand identity – from logo and color palette to font and photography style – which will come to life across all brand touchpoints and client experiences leading with an all-new Forge Health website experience. A campaign launching the new brand will debut in May 2021, which will include a new website.
About Forge Health
Forge Health, previously known as Strive Health and VFR Healthcare, is transforming behavioral health care through an affordable and effective technology-enabled model that seamlessly integrates digital health services and in-person care. Forge delivers in-network, evidence-based outpatient treatment for substance use, mental health, or trauma issues when and where clients need it – delivered virtually from the comfort, privacy, and convenience of their home or in-person at our beautifully-designed, welcoming technology-enabled offices.
Forge's Veteran and First Responder services (Forge VFR) has earned a distinct reputation and the trust of providing the highest quality behavioral health care to active-duty servicemembers, Veterans, first responders, and their families. This includes making history with a first-of-its-kind partnership with the VA to enhance the access to behavioral health care to reduce suicide. Through this partnership, Forge works with the VA to provide care in underserved areas and ensures Veterans and their families get the highest-quality care.
Share article on social media or email: