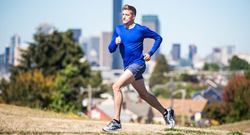 From our world class training facilities, to our experienced and supportive training and coaching staff and our world-renowned ambassadors, our athletes have all the advantages that their competitors don't.

GENEVA, Ohio (PRWEB)
July 16, 2021
SPIRE Institute and Academy (IA) is known throughout the nation for bringing world class leadership to all their sports programs. With the recent onboarding of Distance and Cross Country champion Casimir Loxsom and award-winning decathlete Curtis Beach to their already outstanding Track & Field coaching lineup, the sports boarding school in Ohio once again raises the bar.
Casimir Loxsom

Casimir Loxsom brings his world championship skills to SPIRE as Head Coach – Distance & Cross Country. A graduate of Pennsylvania State University, he achieved several national and global awards including World Junior Silver Medalist in 2010, World Junior Best 600m, 5x All-American and 5x Big Ten Champion.
After college, he signed on with the Brooks Beasts Track Club, winning worldwide recognition with his performance in the World Championships in Beijing (2015), World Best 600m (2017), 2x World Relay Championships Gold Medalist (2015 & 2017), and USA Indoor Champion 600m (2015).
Casimir brings a wealth of coaching experience with him to the SPIRE family. He has been the Assistant Cross Country and Track & Field Coach at Gig Harbor High School in Tacoma, WA, the Head Track & Field Coach at Greenwich High School in Greenwich, CT and a Running Specialist at TAP Strength Lab in Westport, CT.
Coach Loxsom will be building and developing SPIRE's Distance and Cross Country program and providing students with age-appropriate, holistic training models in line with current best practices for his student athletes.
SPIRE's Director of Track & Field, Kibwé Johnson, is looking forward to Casimir's contributions to the program. "We are very excited to add Casimir to the SPIRE Track and Field / Cross Country staff," he said. "After an extremely successful professional career which saw Cas break numerous world and American records, he has transitioned seamlessly into the coaching ranks. We are pleased to welcome his infectious spirit and breadth of knowledge to the SPIRE Family."
Curtis Beach

SPIRE also welcomes Curtis Beach to the Track and Field family as Head Coach – Sprints, Jumps and Combined Events.
A well-rounded, nationally and globally recognized decathlete, Curtis is a professional track & field athlete from Albuquerque, New Mexico who spent over 15 years competing in the decathlon and eight years coaching athletes at all levels. His top athletic achievements include winning two NCAA Championship titles, becoming a USATF National Champion, earning a spot on the US National Team on four occasions and receiving the Gatorade National High School Player of the Year award. As a coach, Curtis helped his alma mater, Duke University, win the 2021 Atlantic Coast Conference Championships for Women's Track & Field. In addition, Curtis helped many of his private clients achieve their personal goals.
His experience in decathlon events makes him a valuable addition to the track & field coaching team, allowing him to help students perfect sprints, hurdles and all the multi-events covered in the decathlon such as the 100m, 400m, 1500m, 110m hurdles, long jump, high jump, shot put, discuss, javelin and pole vault.
Kibwé Johnson noted, "We are excited to welcome Curtis to the SPIRE Family! I've been on USA National teams with him and together we serve as members of the USATF Athlete Committee, so I've been present to observe Curtis' knowledge and keen instincts in not only his areas in the sport, but also in business development. I'm extremely happy he's choosing to bring those qualities here to SPIRE Track & Field."
An Unmatched Team of Track & Field Leadership and Coaches

SPIRE has firmly established its rank as a top-rated sports academy in the nation because of its ability to recruit and keep top leadership and coaching staff to its programs. With Casimir and Curtis, SPIRE's dream team of track & field leadership has arrived.
SPIRE now boasts championship winning coaches for all track & field events, including:
Kibwé Johnson: Head Coach – Throws

Tim Mack: Program Development Director / Head Coach – Vertical & Horizontal Jumps

Casimir Loxsom: Head Coach – Distance and Cross Country

Curtis Beach: Head Coach – Sprints, Jumps & Combined Events
In addition to these highly renowned coaching team members, SPIRE also features long jumper and author Tianna Bartoletta, 3-time Olympic gold medalist and 6-time World medalist, as well as Hall of Famer long jumper Dwight Phillips, Olympic gold medalist and four-time world champion, as SPIRE Track and Field Ambassadors. In this role, they influence and train track and field athletes while aiding in program development.
"Our track and field resources are unmatched anywhere in the United States," explains Ted Meekma, Co-Managing Director of SPIRE. "From our world class training facilities, to our experienced and supportive training and coaching staff and our world-renowned ambassadors, our athletes have all the advantages that their competitors don't. Other athletic academies may develop athletes, but SPIRE develops champions."
About SPIRE

SPIRE Institute & Academy is a comprehensive academic, athletic, personal skills and career development experience located within a world class event and wellness complex. Constructed on nearly 500 acres with more than 750,000 sq. ft. under roof, SPIRE (http://www.spireinstitute.org) encompasses four divisions: SPIRE Academy, an accredited college preparatory international boarding school and multi-sport/specialty training and development academy for 9-12 graders and a post grad program; SPIRE Institute, the research and development arm studying performance improvement across multiple disciplines; SPIRE Events, a facility and team that hosts local, national and international tournaments and events with the NCAA, the Big East, Big Ten and Atlantic 10 conferences, Olympic trials and world championship qualifiers; and SPIRE Fit, a community membership-based fitness, swim and health center open to the public. Sports currently featured on campus include swimming, track and field, basketball, esports, drone racing, volleyball and soccer.