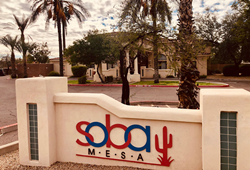 LOS ANGELES (PRWEB)
July 21, 2021
Soba Recovery has distributed a new informational post for the sober community in Arizona, particularly around the Phoenix metropolitan area. This guide contains a wide variety of activities for people to engage in that are free of potentially harmful substances such as alcohol. Soba is committed to helping its current and former patients from the Soba Mesa Recovery Facility, and continues to work to offer them assistance even after they've left Soba.
Soba states that rehabilitation isn't just about taking substances out of your life, but it's key to build up a brand new, healthier life. This involves engaging hobbies, performing activities, and enjoying the arts and sciences. In this post, they offer appropriate and varied suggestions for those who need places to start, and offer another first step to those in need. Suggestions include visiting the Musical Instrument Museum of over 15,000 instruments, exploring Papago Park which is home to a large number of outdoor activities and the Arizona Heritage Center, and visiting the underwater town of Canyon Lake in a scuba dive.
"We don't want to put our visitors in a punishing environment or to isolate them from their communities, and we believe that helping them engage in their communities is a key way to do that," said Greg Hannley, CEO of Soba Recovery. "We're happy to provide everyone in our local community, customer or not, with informational resources like this to help them live a clean, healthy life."
Soba Recovery are the operators of two rehabilitation centers, one in Arizona and the other in Texas. These are helmed by an expert team with over 20 years of experience and offer high-quality care from renowned therapists to get your life back on track. Those interested can visit https://sobarecovery.com/ to view more information about treatments and to submit an application to verify insurance coverage.

Share article on social media or email: