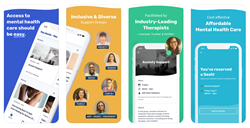 "Amid the current pandemic, the need for an accessible, modern mental healthcare solution has become patently acute. […]We're thrilled for Sesh's launch bringing high-quality online group support to people across the U.S."

NEW YORK (PRWEB)
September 14, 2020
Today, Sesh Therapy, a mental health startup focused on expanding access to group support, announced the launch of their mobile application. With an emphasis on a person-first approach, the Sesh mobile app connects users with real people – peers and licensed therapists – for video-enabled group support on a variety of topics related to condition, community and therapeutic modality.
Licensed therapists have been facilitating support sessions on the web version of the platform since March with consistent weekly offerings such as Addressing Anxiety, Becoming Body Positive, Inner Healing for Womxn of Color and more.
"Sesh provides a service that people need now more than ever. As a Sesh facilitator, I've enjoyed the ability to expand my reach as a mental health professional and help additional people during these difficult times," said Sesh Clinical Director, Kruti Quazi. "I'm excited that the mobile application will bring the Sesh support system to an even larger community."
Upon opening the app, individuals are asked to complete a brief intake survey that assesses current anxiety and depression levels. Once sign up is complete, full access to the Sesh community is unlocked. All users receive access to a free two-week trial upon sign-up, with membership at an accessible $15/week, billed monthly, thereafter. Therapists are interviewed by the Sesh team and thoroughly vetted and verified.
Sesh worked with the team at Carbon Five on the initial development of the native mobile app, emphasizing performance, security and an engaging user experience.
"Amid the current pandemic, the need for an accessible, modern mental healthcare solution has become patently acute. Carbon Five had the opportunity to work with the visionary founders of Sesh Therapy on their native mobile app solution right at the moment of market shift," said Brandy Davis-Balsamo, New York Managing Director at Carbon Five. "We're thrilled for Sesh's launch bringing high-quality online group support to people across the U.S."
Vittoria Bergeron and Alyssa Musket, Sesh co-founders, are on a mission to make mental healthcare accessible, starting with online group support.
"Millions of Americans are in need of affordable and accessible mental healthcare, greatly overwhelming the current system. This is despite the fact that there are hundreds of thousands of capable therapists ready to provide support," concluded Bergeron. "Sesh is here to help."
—
About Sesh

Sesh is on a mission to make mental healthcare accessible, starting with online group support. For $15 per week, members gain unlimited access to 1-hour peer support sessions led by licensed therapists on a variety of topics based on condition and community. Session topics vary according to condition, community, or modality and include topics such as Anxiety Support, Inner Healing for Womxn of Color, and Art Therapy.
App Store:

http://bit.ly/DownloadSesh
Google Play:

http://bit.ly/SeshGoogle
Press Kit:

http://bit.ly/SeshPressKit
Website

http://www.seshtherapy.com
Instagram

http://www.instagram.com/seshyourself
Facebook

http://www.facebook.com/seshyourself
Twitter

http://www.twitter.com/seshyourself
LinkedIn

http://www.linkedin.com/company/seshyourself
About CarbonFive

Carbon Five is a digital product development consultancy. C5 partners with clients to create exceptional products and grow effective teams. The team works with numerous startups in addition to companies and organizations like Coinbase, StitchFix, Filecoin, IPFS, Compass, Everlane, WeWork, and the San Francisco Museum of Modern Art.
Website

http://www.carbonfive.com
Share article on social media or email: