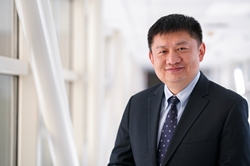 "Dr. Cai is a highly respected and accomplished leader in international pharmacy. His steadfast commitment to shepherding advancements in pharmacy education, training, and practice have led to lasting improvements."

BUFFALO, N.Y. (PRWEB)
May 18, 2021
Roswell Park Comprehensive Cancer Center congratulates our Chief Pharmacy Officer, Lijian "Leo" Cai, PharmD, who will receive the 2021 Donald E. Francke Medal winner from the American Society of Health System Pharmacists (ASHP) in recognition of his long record of significant professional achievements.
The Francke Medal, considered one of the most prestigious awards in in the pharmacy field, honors individuals "who have made significant international contributions to advance pharmacy practice."
Dr. Cai, the ASHP notes, "is a highly respected and accomplished leader in international pharmacy. His steadfast commitment to shepherding advancements in pharmacy education, training, and practice have led to lasting improvements in the United States and China, particularly in the areas of medication safety, residency training and patient-centered pharmacy services."
"Since starting with us in 2019, Dr. Cai has established himself as a leading pharmacy expert, and this honor from the ASHP reflects all he has accomplished so far in his career — which is an impressive record indeed," says Shirley Johnson, MBA, MS, RN, Chief Clinical Operations Officer at Roswell Park. "Bravo to Dr. Cai on a well-deserved award."
Dr. Cai will formally accept the award at the ASHP Midyear Clinical Meeting in December. While this prestigious and international award has been given 26 times since inception, Dr. Cai is the youngest Francke Medal recipient to date. Also among the honorees this year is Anthony S. Fauci, MD, Director of the National Institute of Allergy and Infectious Diseases, who will receive ASHP's Award of Honor.
###
This press release is also available on the Roswell Park website: https://www.roswellpark.org/newsroom/202105-roswell-park-chief-pharmacy-officer-earns-career-honor-professional-society
Roswell Park Comprehensive Cancer Center is a community united by the drive to eliminate cancer's grip on humanity by unlocking its secrets through personalized approaches and unleashing the healing power of hope. Founded by Dr. Roswell Park in 1898, it is the only National Cancer Institute-designated comprehensive cancer center in Upstate New York. Learn more at http://www.roswellpark.org, or contact us at 1-800-ROSWELL (1-800-767-9355) or ASKRoswell@RoswellPark.org.
Share article on social media or email: