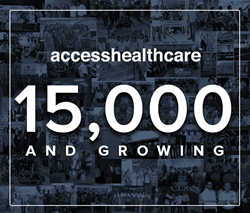 "We were able to shift our entire workforce to the work-from-home model within a week. Our robust service delivery tools, and automation capabilities, not only provide cost savings but also the assurance of business continuity. – Vardhman Jain, Vice Chairman

DALLAS (PRWEB)
June 03, 2021
Access Healthcare, a leading provider of end-to-end healthcare revenue cycle and information technology services, today announced the achievement of a significant company milestone employing over 15,000 people in just over ten years since its inception.
Coming amidst the global pandemic, the growth of over 30% in headcount is reflective of the trust placed by large enterprise aggregators and hospital clients in Access Healthcare's deep global delivery model, business continuity assurance, and process automation capabilities.
"We have made significant progress in the last year and grown from 12,000 to over 15,000 employees today," said Anurag Jain, Chairman, Access Healthcare. "Coming in the year of the global pandemic, we have emerged stronger against the headwinds because of the robustness of our service delivery tools. We are now focusing on building the revenue cycle of the future by utilizing echo, our unique robotic process automation platform that offers ease of implementation as well as management and delivers value in terms of business outcomes our clients seek."
Access Healthcare operates from nine (9) cities globally and has 19 centers in India, the Philippines, and the United States. In addition, the company will be expanding its delivery operations in Teaneck, NJ, and opening a new service center in Dallas shortly. The company has won several recognitions for its innovative process automation and service delivery capabilities.
"When the first wave of the pandemic hit us and caused lockdowns globally, we were amongst the first companies to transition to the work-from-home model and completed the full transition within a week. Our robust service delivery tools and market-leading automation capabilities provide significant cost savings and business continuity assurance. We are thankful for the trust our customers placed in us and were able to hire and train people quickly during the pandemic" explained Vardhman Jain, Vice Chairman, Access Healthcare.
ABOUT ACCESS HEALTHCARE

Access Healthcare provides business process outsourcing, applications services, and robotic process automation tools to hospitals, health systems, providers, payers, and related service providers. The company operates from 19 global delivery centers in the US, India, and the Philippines. Their 15,000+ staff is committed to bringing revenue cycle excellence to clients by leveraging technology, emerging best practices, and global delivery. Based in Dallas, TX, the company supports over 400,000 healthcare providers through 80+ clients, serving 80+ specialties, processing over $100 billion of A/R annually, and ascribing medical codes to over 30 million charts annually.
With over 3,500 virtual bots in operation, Access Healthcare's proprietary robotic process automation platform helps its clients improve efficiency. Access Healthcare is HITRUST, PCI DSS, SOC, ISO 27001, and ISO 9001 certified, providing the needed security, availability, and confidentiality of sensitive health information. Their people program, integrated processes, and proven track record of service delivery have earned Access Healthcare the Leader and Star Performer award by Everest Group's Healthcare Provider BPO Peak Matrix. For more information, visit http://www.accesshealthcare.com

Share article on social media or email: