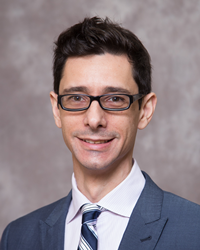 "Matt brings to the organization an impressive resume and skill set, along with a 21st-century leadership style that will help us grow our mission, support our staff and lead us into our 30th anniversary year with a clear vision for success and progress."

SILVER SPRING, Md. (PRWEB)
December 17, 2020
Granato comes to PHA with more than 20 years of experience in nonprofits and health care associations. For the last four years, he served as CEO of an obstetrics medical society on high-risk pregnancies, where he focused on meeting the needs of health care providers and their patients. Under Granato's leadership, the organization launched a new strategic plan emphasizing advocacy, research and education, grew its membership by 52% and achieved record-breaking attendance at its 2019 scientific meeting. He previously was executive director for an association of college health centers and worked for a transfusion medicine trade association. Granato has a master's degree in law and an MBA.
"We are thrilled to welcome Matt Granato to PHA," announced PHA Board of Trustees Chair, Colleen Brunetti, M.Ed, C.H.C. "Matt brings to the organization an impressive resume and skill set, along with a 21st-century leadership style that will help us grow our mission, support our staff and lead us into our 30th anniversary year with a clear vision for success and progress."
Granato will be PHA's third president and CEO in its 30-year history. The patient-centered organization was launched in 1991 by patients and a caregiver who sought to build a community of support, education and research around a rare and poorly understood disease.
While PH remains incurable, early diagnosis and proper treatment can extend and improve an individual's quality of life. PH is often underdiagnosed because its symptoms, such as shortness of breath and fatigue, are mistaken for asthma or other less threatening illnesses. Delays in diagnosis put extra stress on the right side of the heart, which can lead to heart failure.
"PHA's mission to extend and improve the lives of patients and their families has been a common thread throughout my career, and I am honored to work toward that goal as PHA's next president and CEO," Granato said. "I look forward to working with a talented group of professionals and committed volunteer leaders, and especially with patients and their families, to make a difference in the lives of those affected by PH."
Granato will succeed Brad A. Wong, who announced in April he would leave PHA at the end of 2020. Under Wong's leadership, PHA has continued to increase its impact on patient care and research, addressing the needs of patients and amplifying the PH community's voice.
"The PHA Board of Trustees is thankful for Brad's thoughtful and steadfast work the last 4 ½ years," Brunetti said. "Because of his leadership, the organization is poised for continued success."
Contact: Karen Smaalders

KarenS@PHAssociation.org
About the Pulmonary Hypertension Association
Headquartered in Silver Spring, Md., the Pulmonary Hypertension Association (PHA) is the country's oldest and largest nonprofit patient association dedicated to the pulmonary hypertension (PH) community. Pulmonary hypertension is a rare, chronic and life-threatening disease of the lungs for which no cure currently exists. PHA's mission is to extend and improve the lives of those affected by PH. To achieve its mission, PHA engages people with PH and their families, caregivers, health care providers and researchers to advocate for the PH community, provide support to patients, caregivers and families, offer up-to-date education and information on PH, improve quality patient care, and fund and promote research. For more information, visit PHAssociation.org and connect with PHA on Twitter, Instagram, Facebook and LinkedIn.
Share article on social media or email: