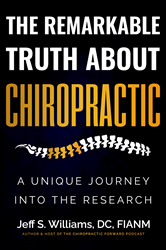 The overall goal is simply to show we evidence-based, patient-centered chiropractors are good at what we do, we are highly educated, we use conservative and cost-effective techniques, we deserve the respect that we have earned, and we have well-thought solutions to musculoskeletal conditions

AMARILLO, Texas (PRWEB)
June 24, 2021
On Tuesday, June 8th, Amarillo chiropractor and Chiropractic Orthopedic specialist, Dr. Jeff Williams, released his first book titled 'The Remarkable Truth About Chiropractic: A Unique Journey Into The Research'.
Dr. Williams's book quickly jumped to the Best Seller in the Education/Research and the Chiropractic categories on the Amazon store platform as well as being designated as the #1 New Seller in the Chiropractic category.
Click To Preview/Purchase 'The Remarkable Truth About Chiropractic'
'The Remarkable Truth About Chiropractic' is Dr. Williams's first book. Dr. Williams, a Texas-based doctor of chiropractic and Fellow of the International Academy of Neuromusculoskeletal Medicine, has been a solid and consistent advocate of chiropractic and of evidence-based, patient-centered care. Most notably through is position as writer, producer, and host of The Chiropractic Forward Podcast (http://www.chiropracticforward.com).
After over 23 years practicing in the trenches and helping lead the profession on the state level through various posts with the Texas Chiropractic Association, Dr. Williams has seen healthcare in all forms; good and bad. He wrote this book to pull as many readers toward the evidence-based, patient-centered side of healthcare, to tell the truth of chiropractic and the effectiveness its practitioners can have on patients in pain, to educate patients and practitioners, and to provide a quick research reference for practitioners creating content and educating their patients and populations.
"This book has been in the works in one form or another for about 15 years. It is essentially a collection of writings through the years. A gathering of short research paper reviews gathered into one resource. These papers are some of the most significant research and/or guidelines relevant to the chiropractic profession and manual therapists in general. They are categorized for quick reference and are shared in a quick and easy way with the goal of stripping down difficult-to-understand terminology and sharing it in a manner that is understandable for any reader."
Dr. Jeff Williams owns Creek Stone Integrated Medical in Amarillo, TX, has been a chiropractor in Amarillo, and has been treating the people of the Texas Panhandle since 1998. His office is located at 45th St and I-27. Dr. Williams offers family chiropractic, care for personal injury and car accidents, workers compensation, care focused on quick pain relief, and wellness care. In addition, Dr. Williams is a Board Certified specialist of the International Academy of Neuromusculoskeletal Medicine a Court-recognized Expert in Whiplash, and specializes in orthopedics.
Dr. Williams can be contacted at creekstonecare@gmail.com or by phone at 806-355-3000. http://www.creekstonecare.com or http://www.amarillochiropractor.com
Share article on social media or email: