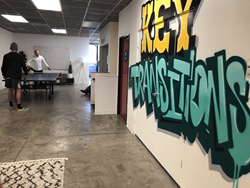 Los Angeles Teen Treatment Program Helps Struggling Teens

LOS ANGELES (PRWEB)
July 09, 2021
Teen Treatment Program Key Transitions Appoints Dr. Kim Chronister as Their Clinical Director
Los Angeles-based providers of teen treatment services Key Transitions, announces the appointment of a licensed clinical psychologist, Dr. Kim Chronister, as their new clinical director.
As part of their goal to help struggling teens recover from substance abuse and addiction, Key Transitions has added the experienced licensed clinical psychologist, Dr. Kim Chronister, to their illustrious team of highly trained and dedicated professionals. Dr. Kim Chronister will lead the entire substance abuse program for teens and families at Key Transitions.
Teen substance abuse remains a significant problem faced by millions of adolescents in Los Angeles and the country. Unfortunately, the United States ranks high on the list of countries battling the crisis, with the National Survey on Drug Use and Health (NSDUH) reporting that 19.7 million American adults (aged 12 and older) battled substance use disorder in 2017.
Dr. Kim is a licensed psychologist and author of FitMentality and PEAK MINDSET, the new science of success. She has appeared in different media outlets, including NBC, Yahoo News, The National Psychologist, Women's Health Magazine, Bustle, and Livestrong, sharing her opinion on mental health. As a member of the Key Transitions team, Dr. Kim will leverage her experience and expertise in helping teens who have suffered from substance addiction get back on track.
Key Transitions offers free psychological assessments for families and adolescents as well as the Teen IOP program, Teen Sober Living Program (key housing), and Teen Mentorship programs. Over the years, the organization has worked with hundreds of adolescents and young adults, using custom-tailored techniques to help them nurture their ability and open a new window to progressive experiences.
For more information about Key Transitions and the initiatives from the organization, visit Key Transitions.
About Key Transitions

Ryan Blivas and Evan Powell founded key Transitions in 2014 as a provider of teen drug rehab treatment services. Headquartered in Los Angeles, the organization creates programs to give teens and young adults the needed guidance to draw on their strengths and realize their potential to live fulfilling, happy lives.
Media Contact

Key Transitions

Evan Powell

1251 Westwood Blvd

Suite 300, Los Angeles,

CA 90024

https://keytransitions.com
Share article on social media or email: