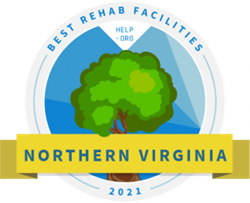 ARLINGTON, Va. (PRWEB)
November 14, 2020
Help.org, a trusted online resource for individuals who struggle with addiction and their loved ones, has announced the Best Rehab Facilities in Northern Virginia, VA for 2021. The informational guide recognizes the top 13 rehab facilities based on cost, treatment options, location, accompanying services, and more.
According to recent studies, drug overdose is the leading cause of death among people under age 50. In Northern Virginia, deaths related to opioid abuse increased significantly from 2011 to 2015. Substance abuse among adolescents is also escalating in Northern Virginia with 55 percent of high school students reported using alcohol, 38 percent reported using marijuana, 8 percent reported using prescription drugs without a valid prescription, and 2 percent reported using heroin. With the growing need for accessible and high-quality rehab programs, Help.org has developed a unique ranking process to help connect individuals with treatment providers that meet their needs.
The Help.org research team analyzed thousands of facilities across the country and then identified the most cost-effective and highest-rated programs in larger cities like Northern Virginia. Each facility was evaluated based on rehabilitation services, treatment approaches, cost, special programs for unique demographics, and ancillary services. The website also provides information about drug use and side effects as well as educational articles. For a detailed listing of the Best Rehab Facilities in Northern Virginia, VA please visit https://www.help.org/drug-and-alcohol-rehab-centers-in-northern-virginia-va
2021 Best Rehab Facilities in Northern Virginia, VA (in alphabetical order)
Aquila Recovery of Virginia

425-B Carlisle Drive

Herdon, VA 20170

703-687-0935
Bridging the Gaps, Inc.

31 S. Braddock Street

Winchester, VA 22601

540-535-1111
Broad Highway Recovery

5706 Jasonwood Court

Richmond, VA 23225

877-487-1599
Encore Outpatient Services

4600 Fairfax Drive, Suite 906

Arlington, VA 22203

703-594-7418
Inova Behavioral Health Services

8110 Gatehouse Road

Falls Church, VA 22042

855-694-6682
Kolmac Outpatient Recovery

1701 Clarendon Boulevard, Unit 100

Arlington, VA 22209

888-328-3053
New Paradigm Recovery

8150 Leesburg Pike, Suite 740

Vienna, VA 22182

703-214-5888
Recovery Unplugged at Harrison House

5105Q Backlick Road

Annadale, VA 22003

844-889-9433
Recovery Unplugged Northern Virginia Treatment Center

5105Q Backlick Road

Annadale, VA 22003

888-294-5786
Regional Health Providers Addiction Treatment Center

3917 Old Lee Hwy, Suite 1D

Fairfax, VA 22030

703-691-4000
Sagebrush Treatment Center

7921 Jones Branch Drive, Suite 400

McLean, VA 22102

866-488-1156
Sandstone Care

11415 Isaac Newton Square South

Reston, VA 20190

703-260-9359
Virginia Hospital Center

1715 N. George Mason Drive Suite 101

Arlington, VA 22205

703-558-6750
ABOUT HELP.ORG

Help.org is an online resource for individuals who struggle with addiction and their loved ones. The website provides the latest research through scientifically proven methods, community recovery resources as well as information about local financial assistance. Help.org's team of researchers, activists, and writers work together with addiction counselors and other professionals to offer useful and accurate resources to help individuals seeking recovery. To learn more, visit https://www.help.org/.
Share article on social media or email: