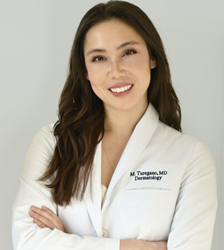 "Dr. Turegano has an active and thriving cosmetic and laser practice, where she performs various neuromodulation injections"

NEW ORLEANS (PRWEB)
August 26, 2020
Dr. Mamina Turegano, MD, is a triple board-certified dermatologist, internist, and dermatopathologist. She graduated summa cum laude from Centenary College, where she studied neuroscience and piano performance and received her medical degree from Louisiana State University School of Medicine in New Orleans.
Dr. Turegano has a special interest in evaluating how nutrition, lifestyle, sleep, and other environmental factors can play a significant role in inflammation, aging, and cancer. She enjoys incorporating holistic practices in her patients who deal with anything ranging from acne to warts. Dr. Turegano has an active and thriving cosmetic and laser practice, where she performs various neuromodulation injections.
She currently practices at Sanova Dermatology in the great New Orleans area. She also serves as a dermatologist for an online dermatology practice called Apostrophe.
Visit Dr. Mamima Turegano's website at: https://www.drmamina.com/
ABOUT HAUTE BEAUTY:
Haute Beauty is affiliated with the luxury lifestyle publication Haute Living. As a section of Haute Living magazine, Haute Beauty covers the latest advancements in beauty and wellness, providing readers with expert advice on aesthetic and reconstructive treatments through its network of acclaimed surgeons.
To learn more about Haute Beauty, visit: https://hauteliving.com/hautebeauty/
Share article on social media or email: