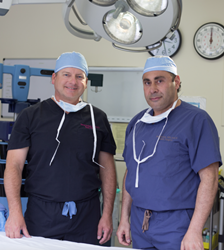 Steven Svehlak and Dr. Dan Yamini have three cornerstones to their practice, they constantly try to nurture: patient satisfaction, comfort, and, above all, safety

LOS ANGELES (PRWEB)
June 30, 2020
Haute Beauty Welcomes Dr. Dan Yamini and Dr. Steven Svehlak! Rated two of Southern California's leading Board-certified plastic surgeons, opening Sunset Cosmetic Surgery in the Los Angeles area, for over the past six years. They are renowned for their skills and capabilities to help you achieve your dreams.
Visit their website at: https://www.sunsetcosmeticsurgery.com/
Dr. Dan Yamini
Dr. Dan Yamini was accepted to the Providence Hospital Plastic Surgery Program in Michigan. His training was led by the world-renowned Dr. Ian Thomas Jackson at the Craniofacial Institute. Dr. Jackson, who was the head of plastic surgery at the Mayo Clinic, is considered one of the true "Fathers" of plastic surgery. Dr. Dan Yamini has been invited to present his work in cosmetic surgery techniques at the premier international cosmetic conference (ASAPS) multiple times.
Dr. Dan Yamini pursued an advanced fellowship in facial and body cosmetic surgery with one of the most experienced and renowned cosmetic surgeons in the world. Dr. Yamini has earned the recognition as one of "America's Top Surgeons," as well as a Patient's Choice Award.
There are three cornerstones to his practice which Dr. Dan Yamani is proud of, and constantly tries to nurture: patient satisfaction, comfort, and, above all, safety.
Dr. Steven Svehlak
Dr. Svehlak sought plastic surgeon with a passion, did his raining and completed an intense and highly competitive plastic surgery program at George Washington University in Washington, D.C., in 2001. He learned the techniques of reconstructive surgery, including those applied in cancer, breast, and trauma surgeries. Dr. Svehlak gained additional training at Children's National Medical Center in Washington, D.C., where he focused on facial reconstructive surgery, including cleft lip and palate. He also became quite experienced in treating many types of congenital hand deformities.
In 2002, Dr. Steven Svehlak was offered an Advanced Aesthetic Fellowship in Beverly Hills, California. Dr. Svehlak worked side by side with a 30-year veteran of plastic surgery, performing rhinoplasty, breast augmentations and reductions, liposuction, and facial surgery. He became very knowledgeable in the art of cosmetic surgery and developed a keen eye in aesthetics.
Dr. Steven Svehlak has been featured in the Consumers' Research Council of America's Guide to America's Top Plastic Surgeons for the past six years
About Haute Beauty:
Haute Beauty offers readers access to an invite-only, prominent collective of leading doctors and industry-leading aesthetic surgeons located in their area. Haute Beauty is affiliated with the luxury lifestyle publication Haute Living. As a section of Haute Living magazine, Haute Beauty covers the latest advancements in beauty and wellness, providing readers with expert advice on aesthetic and reconstructive treatments through its network of acclaimed surgeons.
For more about Haute Beauty, please visit http://www.hauteliving.com/hautebeauty
Share article on social media or email: