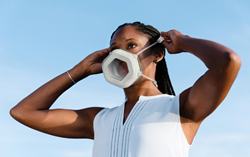 "Given the significant limitations, drawbacks and shortages of existing PPE, we are eager for our staff to begin testing Canopy in the clinical setting. It cannot come soon enough." said Dr. Yves Duroseau MD MPH, Chief of Emergency Medicine at Lenox Hill Hospital, a Northwell Health Hospital."

WACCABUC, N.Y. (PRWEB)
December 21, 2020
Grove Biomedical, a medical device startup founded in April 2020 announced today the launch of Canopy, a modular ecosystem of transparent, reusable respirators developed in collaboration with clinicians and hospital administrators to solve the most common issues with the disposable N95's half-century-old design.
Canopy's patent-pending solution was inspired by feedback from dozens of Emergency Medicine professionals to ameliorate their key complaints with current solutions, which include: discomfort, poor breathability, and challenges communicating with colleagues and patients. Beyond the value to frontline workers and patients, Canopy can save hospitals thousands of dollars per employee per year while reducing wasteful single-use PPE and supply chain risk.
Compared to a disposable N95, Canopy's engineers were able to fit nearly three times more filter media into the device's transparent Core. The achievement unlocked a universe of materials that avoids globally-scarce meltblown media, a key cause of worldwide N95 shortages. In company-sponsored testing at SGS Labs, Fiatec GmbH and Nanosafe Inc., Canopy achieved up to 99.8% filtration of 0.3 micron-sized particles under certain test conditions. The company has partnered with the world's largest sterile air filter OEM to mass-produce the proprietary Filter Core. It expects to deliver initial orders in early Q1 and has capacity to produce millions of units per year, made in the USA with several globally sourced components.
"Given the significant limitations, drawbacks and shortages of existing PPE, we are eager for our staff to begin testing Canopy in the clinical setting. It cannot come soon enough," said Dr. Yves Duroseau MD MPH, Chief of Emergency Medicine at Lenox Hill Hospital, part of Northwell Health, New York's largest health system. Canopy is collaborating with both Northwell and Emory University on an evaluation comparing Canopy to disposable N95s, and with researchers at Emory University to evaluate Canopy's features and benefits compared to disposable N95s.
Joe Rosenberg, a past leader in Google's Emerging Business Development group, founded the company and recruited Qing Xiang "QX" Yee as Chief Engineer. QX holds a graduate degree from Johns Hopkins' Center for Bioengineering Innovation and Design. Rosenberg tapped Dr. Tom Gsell, PhD, the long-tenured R&D executive at Pall Corporation, a worldwide leader in medical filtration, to help perfect the filter design.
Canopy is a fully modular line of interchangeable straps and filters to suit a variety of use-cases. Canopy, the eponymous base-model, and Canopy Pro, which is pending NIOSH certification, are available for pre-order on the company's website onecanopy.com. Deliveries are expected in Q1 2021.
Canopy also obtained B Corporation Pending status, the highest B Lab certification for companies less than a year old. "Canopy's mission is to protect the world's well-being. We are pleased that we can directly align financial success with positive social and environmental impact" said Rosenberg.
The founders recently began raising external capital on the Republic.co platform, allowing individuals to invest as little as $100 in the company. "We want those who believe in our mission to be able to share in our success," said Rosenberg.
About Canopy

Led by Google, Johns Hopkins, DaVita, Boston Scientific & Pall alumni, Canopy is dedicated to protecting the world's well-being by creating sustainable products that increase comfort, safety, and performance. The medical device startup's flagship product, Canopy, is a supremely comfortable, transparent, and reusable respirator, designed to address the top shortcomings of current N95 disposable respirators.
Email: info@onecanopy.com

Instagram: @one.canopy

Twitter: one_canopy

Facebook: meetcanopy

LinkedIn: linkedin.com/company/onecanopy

Republic: republic.co/canopy

Media Kit: https://docsend.com/view/hs8amfwpdudhdpck
Share article on social media or email: