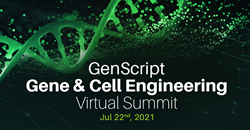 YORBA LINDA, Calif. (PRWEB)
July 15, 2021
The GenScript Gene & Cell Engineering Virtual Summit is being held July 22, 2021 and will feature pioneers pushing the boundaries in gene and cell engineering, providing deep expertise in gene synthesis technologies.
Open to a global audience, this virtual summit is the premier event for geneticists, molecular biologists, and clinical research scientists, with a focus on innovative gene synthesis technologies and gene editing tools that have transformed basic, translational, and biomedical research.
The GenScript Gene & Cell Engineering Virtual Summit will feature a keynote presentation by Alexander Marson, MD, Ph.D., Director, Gladstone-UCSF Institute of Genomic Immunology. His webinar titled, "Reprogramming Human T Cells with CRISPR", will discuss current approaches for CRISPR genome editing in primary human T cells, review progress toward clinical genome editing with non-viral knockin strategies, and explore the application of genome-wide screens as a discovery platform for enhanced cellular therapies. Additionally, J Joseph Melenhorst, Ph.D., Director, Parker Institute for Cancer Immunotherapy Biomarker Program, will be presenting his research relating to Chimeric Antigen Receptor (CAR)-engineered T cells during his webinar titled, "Response to Second Generation CAR T Cell Therapy: It Takes (at least) Two to Tango".
Produced on Labroots' robust platform, connecting across all desktop and mobile devices, the experience includes a virtual lobby, an auditorium with interactive speaker presentations, and a virtual exhibit hall for participants to explore the latest gene and cell engineering technologies. By attending this event, you can earn 1 Continuing Education Credit per presentation for a maximum of 30 credits.
For more information or to register for the event, click here.
About GenScript

GenScript is the leading contract research organization in the world, providing gene, peptide, protein, CRISPR, and antibody products and services. Since its foundation in 2002, GenScript has grown exponentially through partnerships with scientists conducting life science research, translational biomedical research, and early stage pharmaceutical development. The company is recognized as having built a best-in-class capacity and capability for biological research services, encompassing gene synthesis, peptide synthesis, custom antibody and protein engineering, and CRISPR gene editing tools – all with the goal to Make Research Easy. For more information, visit http://www.genscript.com.
About Labroots

Labroots is the leading scientific social networking website, and primary source for scientific trending news and premier educational virtual events and webinars and more. Contributing to the advancement of science through content sharing capabilities, Labroots is a powerful advocate in amplifying global networks and communities. Founded in 2008, Labroots emphasizes digital innovation in scientific collaboration and learning. Offering more than articles and webcasts that go beyond the mundane and explore the latest discoveries in the world of science, Labroots users can stay atop their field by gaining continuing education credits from a wide range of topics through their participation in the webinars and virtual events.
Share article on social media or email: