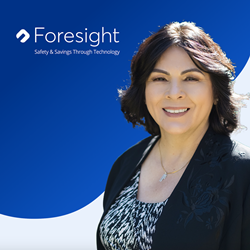 SAN FRANCISCO (PRWEB)
July 14, 2021
Foresight Risk & Insurance Services, an insurtech company modernizing workers comp and rewarding proactive insureds with lower premiums, announced that Laura Gomez Thomas will now oversee the company's claims program as Vice President of Claims. In her new role, Thomas will be a critical partner to all parties involved in facilitating the mission Foresight has committed to.
"The first step is prevention; the second is the human connection and focusing on best outcomes for our brokers and clients," said David Fontain, Founder and CEO at Foresight. "We're looking forward to the dedicated and personalized claims handling approach that Laura will bring to Foresight."
Thomas joins the company with over 30 years of insurance claims experience, most recently working in client services at Sedgwick, where she focused on providing the best strategies for captive programs. Her substantial experience strengthens Foresight's ability to deliver advantageous results without compromising the recovery of injured workers.
"If we only focus on the end result, we might forget about the faces behind it," Thomas said. "To reach the mutually beneficial outcomes Foresight is pursuing, three important elements must exist: care, concern, compassion. I'm excited to continue on the great progress Foresight has already made with the expansion of those elements."
Thomas' hire comes at a time of rapid growth, as Foresight recently expanded its insurance offerings with new availability of Commercial Property and Inland Marine insurance lines, including Motor Truck Cargo, Contractors Equipment, and Builders Risk, which are offered as a complement to Workers Compensation. Foresight's coverage is currently offered in 8 states with plans to expand into several regions later this year.
Thomas has received certifications in International Marketing from California State University and in Workers Compensation from Michigan State University.
About Foresight

Foresight is the first insurtech specializing in commercial coverage for the hard-to-place middle market. Our mission is to improve every business we underwrite, starting with workplace safety. Foresight wraps innovative risk management technology into every policy, reducing workplace incident frequency by up to 57% and giving policyholders the ability to earn lower premiums. Learn more about us at getforesight.com.
Share article on social media or email: