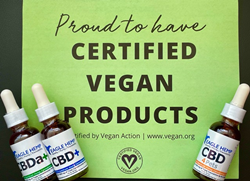 "At Eagle Hemp, we strive to provide the purest and most effective products on the market. Our products are formulated to meet as many dietary demands as possible, so that we can deliver the highest-quality products to all customers."

TAMPA, Fla (PRWEB)
November 17, 2020
Eagle Hemp recently had three of their ultra-pure full spectrum cannabinoid oil products certified by Vegan Action. Vegan Action is a nonprofit organization that guarantees a fully vegan product when they give their stamp of approval.
The Vegan Certification covers Eagle Hemp's CBD+, CBDa+, and CBD4Pets products. Vegan Certification goes beyond just the ingredients of a product. This certification ensures the absence of cross-contamination through shared machinery and product testing on animals.
Elliot Taylor, Laboratory and Process Manager at Eagle Hemp, spearheaded the efforts to achieve Vegan Certification on the aforementioned products.
"At Eagle Hemp, we strive to provide the purest and most effective products on the market. Our products are formulated to meet as many dietary demands as possible, so that we can deliver the highest-quality products to all customers," said Taylor. "We are actively working to achieve more certifications to ensure quality, safety and peace-of-mind for our customers."
Eagle Hemp's FDA registered facility located in Lakeland, Florida uses state-of-the-art CO2 extractors and proprietary processing to create its own ultra-pure full spectrum cannabinoid oil. Eagle Hemp processes four tons of hemp biomass per hour, now with 3 products ensured to have no animal products, testing or GMOs used in manufacturing. Eagle Hemp is working towards certifying more vegan products as well as other certifications to ensure their products meet every customer need.
Eagle Hemp offers each product in various sizes and concentrations depending on consumer needs. Bulk products and white label are also available on their website.
About Eagle Hemp:

Eagle Hemp has crafted a manufacturing process whose goal is to be rigidly consistent and maintain the highest level of quality and purity on the market. The hemp market is flooded with suspect formulations and products that lack consistency, so Eagle Hemp strives to provide the highest quality product with the fastest delivery times for their customers every single day. For more information, visit eaglehempcbd.com
Share article on social media or email: