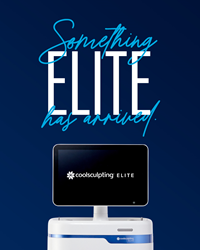 "We've been incredibly successful when treating patients for CoolSculpting®," explained Dr. Richardson, "we were the first office in Austin to adopt Cooltone® and we're excited to be the first office in Austin to adopt CoolSculpting® Elite, the future of noninvasive fat reduction treatments."

AUSTIN, Texas (PRWEB)
May 04, 2021
It's official, CoolSculpting® Elite has arrived in Austin. Westgate Skin & Cancer, an independent physician owned dermatology clinic, will be home to the first local CoolSculpting® Elite system. Coolsculpting® Elite is an FDA-cleared fat reduction treatment for visible fat bulges in nine areas of the body including, but not limited to, the thigh, abdomen, flank, bra area, back, underneath the buttocks, upper arm, and the submental and submandibular areas.
The latest technology provided by the Coolsculpting® Elite system expands on the success and effectiveness of the well-known legacy system, CoolSculpting®. The difference lies in the seven reimagined "C-shaped" applicators, which offers a variety of shapes and sizes to complement the body's natural curves and optimizes treatments over the legacy system. The dual applicators can also now target 2 areas of stubborn fat at once and are scientifically proven to eliminate up to 20-25% of treated fat cells for good.
"We've always been serious about Coolsculpting®. We're a quality focused clinic, and when Allergan approached us about adopting CoolSculpting® Elite, it was a perfect fit," said Dr. Blakely Richardson, Board-Certified Dermatologist and physician owner of Westgate Skin & Cancer.
CoolSculpting® Elite is a non-invasive yet effective procedure that may yield results as early as 1-3 months after initial treatment and provides 18% more coverage than the previous Coolsculpting system. The treatment, available at Westgate Skin & Cancer, requires no surgery and little to no downtime, allowing patients to enjoy quick and fast service.
"We've been incredibly successful when treating patients for CoolSculpting®," explained Dr. Richardson, "we were the first office in Austin to adopt Cooltone® and we're excited to be the first office in Austin to adopt CoolSculpting® Elite, the future of non-invasive fat reduction treatments."
CoolSculpting® and CoolSculpting® Elite use a procedure known as cryolipolysis, which uses freezing temperatures to target and eradicate fat cells. Cooltone® uses a procedure known as electromagnetic muscle stimulation, or EMMS, to tone and strengthen muscle. All Coolsculpting® cryolipolysis and Cooltone® EMMS treatments are non-invasive and non-surgical.
ABOUT

Westgate Skin & Cancer is a medical and cosmetic dermatology clinic located in South Central Austin, TX. Established in 2014, Westgate Skin & Cancer strives for excellence in dermatology care by going above and beyond. Board-Certified Dermatologist, Dr. Blakely Richardson also serves as Westgates Medical Director.
To learn more about Westgate Skin & Cancer, visit http://www.westgateskin.com
*CoolSculpting® Elite is FDA-cleared to treat visible fat bulges in 9 areas of the body. Some common side effects include temporary numbness, discomfort, and swelling. The safety and efficacy of CoolSculpting® and CoolTone® in combination have not been evaluated by the FDA.
Share article on social media or email: