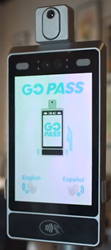 "Screening employees was causing huge lines at shift changes and lots of employee frustration. The GO Pass system actually made the process 'kind of cool' – it's fast and it gives our employees confidence in the safety of our workplace."

NEW YORK (PRWEB)
September 16, 2020
Today, Clio Health launched the Clio Health Go app to provide a tool to help users locate the safest businesses and services. Clio Health Go features GO Pass which allows users to complete a quick, confidential COVID-19 screening and biometric analysis in order to get an electronic entrance ticket. The ticket clears users to enter a business venue and can be stored in Apple Wallet or Google Pay. Users check in by scanning their electronic GO Pass at the venue, similar to scanning a boarding pass at an airport kiosk venue. Once checked-in, users can rate businesses on compliance to COVID-19 safety protocols like implementing masks and social distancing. Businesses can also rate users for compliance. No specific symptom data are shared with venues, instead venues receive anonymous, time-stamped images of the results to verify that a user has been cleared for entry.
The Clio Health Go app is currently available in the App Store and Google Play and in closed pilots with schools, health systems, food processing plants, community and religious organizations, and medical practices. The app is scheduled to roll out nationally this fall. During the pilot phase, you can get access to GO Pass through the Kickstarter campaign. A variety of reward bundles are available to campaign backers. The campaign ends in early October.
"Screening employees was causing huge lines at shift changes and lots of employee frustration. The GO Pass system actually made the process 'kind of cool' – it's fast and it gives our employees confidence in the safety of our workplace," said Jeff Lehman, President, Shank's Extracts, LLC.
Steve Lisk, Head of School, at Lancaster Country Day, said "Staff and students can now complete COVID-19 screening remotely in their homes or car line prior to nearing the building or boarding the bus. This reduces the risk that someone will spread the virus on campus. GO Pass uses encryption to secure identity and medical data, providing an additional layer of privacy to those opposed to facial recognition technologies. GO Pass facilitates consistent and easy screening. It has simply taken our COVID-19 protocol to the next level."
Mike Simpson, Head of The Stone Independent School, stated: "We pride ourselves on providing students with tools and resources that shape the 21st century. We are thrilled to provide our staff and students with a hands-on 21st century solution for COVID-19 preparedness. Our students get an opportunity to use technologies and AI-assisted insights that not only protect our community at Stone, but ultimately improve and shape the future of health and safety for all."
GO Pass personal information is secured by Powch™, a patent-protected pseudonymity system. It protects identity using cryptography, in a manner similar to Bitcoin and blockchain. Companies or governmental organizations cannot determine the owner of personal data protected by Powch™. In keeping with its mission to further public good, Clio Health will open source COVID-19 risk assessment algorithms used in GO Pass, and will share anonymized data to foster advancements in battling the pandemic.
ABOUT CLIO HEALTH GO AND GO PASS

Clio Health Go is focused on leveraging AI to disrupt healthcare and change the way we manage, understand, and improve our health. It is a subsidiary of Aspire Ventures, LLC.
GO Pass is a product of MedStatix, an Aspire Ventures sister company. GO Pass is powered by Aspire's adaptive AI platform, A2I, to provide on-demand access to automated health assessments, deeper health insights, and action plans for better health and wellness. GO Pass is the most recently developed feature on the Clio Health Go platform. https://clio.health/
Committed to innovation in healthcare, Aspire Ventures co-founded the Smart Health Innovation Lab (iLab) with Penn Medicine Lancaster General Health and Capital BlueCross in 2017, effectively bringing down the long-standing operational silos in healthcare that have made it difficult to create lasting change. The collaborative work at iLab has resulted in global recognition and continues to fuel innovation.
Contact:

Melissa Sfida-Allen

Melissa@aspirevc.com

717-799-9195
Share article on social media or email: