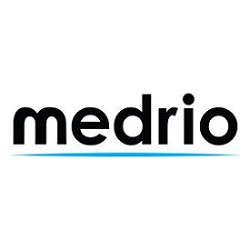 "…Customers First is one of our guiding principles at Medrio and I am thrilled we can leverage Christina's extensive experience leading professional services organizations to fuel our next stage of growth."

SAN FRANCISCO (PRWEB)
October 23, 2019
Medrio is pleased to announce the addition of Chief Operating Officer, Christina Hughes, to its executive leadership team.
As a market leader in solutions for EDC, Direct Data Capture and eCOA, Medrio's integrated technology solutions allow growth-stage biotech and pharma companies to reduce timelines and improve quality with real-time data capture. In her role as COO, Christina will be responsible for developing a world class Customer Success organization focused on accelerating the delivery of Medrio's technology solutions.
Christina brings over 20 years of experience in health care technology. She most recently was a Vice President at ERT, where she was responsible for ERT's global service delivery organization across multiple service lines. Prior to ERT, Christina worked for AiCure and Bracket (now Signant Health) in sales and marketing, business development operations, and client services. Christina was named as one of PharmaVOICE's top 100 most influential people in the life sciences industry in 2016.
"Christina brings tremendous experience and vision to our team and will be a great asset as we continue to scale our organization to meet the needs of our growth stage customers," said Mike Novotny, founder and chief executive officer of Medrio. "Furthermore, Customers First is one of our guiding principles at Medrio and I am thrilled we can leverage Christina's extensive experience leading professional services organizations to fuel our next stage of growth."
"I am excited to join a company with a world-class technology platform like Medrio's. I look forward to helping our clients accelerate their study timelines and maximize the value from Medrio's solutions for Real World data capture," commented Christina Hughes, regarding her new role as Medrio COO.
Christina holds a Master of Business Administration from the University of Pennsylvania's The Wharton School and a Bachelor of Science from Yale University.
About Medrio

Medrio offers software-based eClinical solutions, providing clinical researchers with the tools necessary to accelerate research, eliminate hurdles, and maximize return on investment. Partnering with sponsors and CROs across all phases of research in pharma, biotech, medical device, and diagnostics, Medrio supports its clients along their journey to medical discovery.
Share article on social media or email: