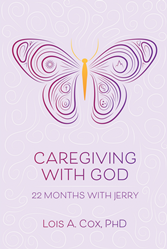 "My relationship with my Lord grew during those 22 months more than it had in the previous 70 years of my life."

OKLAHOMA CITY, Okla. (PRWEB)
May 03, 2021
Author Lois A. Cox has published her debut memoir in which she explores how her experience caretaking for her husband shaped the way she uses her faith to navigate grief. In "CAREGIVING WITH GOD: 22 Months with Jerry," Cox shares how God provided the strength she needed to deliver terminal care to her husband, Jerry, who suffered a rare bilateral thalamic stroke.
"CAREGIVING WITH GOD: 22 Months with Jerry," explores the complex nature of grief and how, without God, finding reason and meaning in death can be impossible. Cox describes the whirlwind of activity in her life before learning of her husband's condition which included working multiple jobs, pursuing three advanced degrees and being a teacher. She also walks readers through the heartache she felt after a grim night in the emergency room when Jerry would not wake up and she was told the best thing for him was to withhold food and let him go.
"For the first time in my life, I was forced to stop everything I was doing and focus on my God and the strength I now desperately needed to move forward. Over the next 22 amazing months of Jerry's life, God worked with me, Jesus held my hand and the Holy Spirit gave me inner strength. My relationship with my Lord grew during those 22 months more than it had in the previous 70 years of my life," Cox said.
Ultimately, Cox's book provides insight into how giving care increases the depth and meaning of a relationship. Cox offers help and practical tips to soon-to-be widows, widowers and other caregivers as they experience the final stages of life with a loved one. "CAREGIVING WITH GOD" also encourages those who are about to embrace grief to nurture a relationship with prayer and thanksgiving and educate themselves on healthy ways to cope.
"CAREGIVING WITH GOD: 22 Months with Jerry"

By Lois A. Cox, PhD

ISBN: 9781664215177 (softcover); 9781664215160 (hardcover); 9781664215184 (electronic)

Available at the WestBow Press Online Bookstore, Amazon and Barnes & Noble
About the author

Lois A. Cox, PhD, received a Bachelor of Science degree in education from Oklahoma Christian University, a Master of Science degree from Oklahoma University, a Master of Arts degree from Marian University and a doctorate degree from Northcentral University. During her time in education as a teacher, Cox taught at the high school, technical college and university levels. Cox met her husband, Jerry, while at Oklahoma Christian College in 1966. The married a year later and spent the next 50 years happily together. Cox currently resides in Oklahoma City, Okla. For more information, please visit http://www.22monthministry.com.
General Inquiries:            

LAVIDGE – Phoenix                        

Leslie Standridge

480-648-7586

lstandridge@lavidge.com
Share article on social media or email: