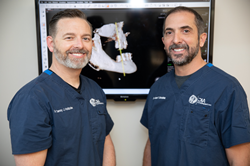 Dr. Holtzclaw is a pioneer in modern, minimally invasive dental implant surgery.

AUSTIN, Texas (PRWEB)
November 10, 2020
The award-winning team at Austin Dental Implant Center offers complimentary IV sedation with full mouth dental implant treatment DIAsmile™. Understanding the impact that this life-changing care can have, the practice now welcomes patients with or without a referral. Specializing in comprehensive implant services, Austin Dental Implant Center offers high-quality care to patients with tooth loss in Austin, TX and across the country.
Implant surgeons Dr. Dan Holtzclaw and Dr. Juan Gonzalez have placed over 25,000 dental implants with a 99 percent success rate. Employing decades of experience providing dental implants, they recognize the fear and anxiety some patients feel before receiving this treatment. In order to prevent patients from avoiding this life-changing experience, they offer those in their community and across the country complimentary IV sedation with their full mouth dental implant surgery.
Patients who receive IV, or intravenous sedation can expect to feel little to no discomfort during surgery. After surgery, their doctor may provide take-home medication for their added comfort. Due to the skilled and pre-planned placement of each dental implant, many patients of Austin Dental Implant Center report significantly less pain and a shorter recovery times than they anticipated.
From in-house IV sedation capabilities to hospital-grade anesthesia monitors and digitally planned surgical treatment, Austin Dental Implant Center is a fully equipped implant practice. Patients with missing teeth in need of life-changing dental implants experience efficient, high-quality care that can last a lifetime.
Dr. Holtzclaw is a pioneer in modern, minimally invasive dental implant surgery. Named on the list of the World's Top 100 Doctors in Dentistry, he has also been recognized by Dentistry Today Magazine as a Leader in Continuing Dental Education for 14 years running. Published over 60 times in esteemed dental journals across the nation, Dr. Holtzclaw has contributed groundbreaking research on immediate full mouth dental implant techniques and continues to further the field of implantology. Considering his contributions as well as that of other industry-leaders, he developed DIAsmile™. This full mouth technique offers immediate results allowing patients to arrive at Austin Dental Implant Center with complete tooth loss and leave on the same day with a full set of natural-looking and functional teeth.
Patients with missing teeth, complete tooth loss, or loose dentures interested in improving their smile and their lives with full mouth dental implants can call 512-375-0050 to schedule a custom consultation and receive complimentary IV sedation.
About the Practice
Austin Dental Implant Center was founded by Dr. Dan Holtzclaw, one of the world's leading authorities on full arch immediately loaded dental implant treatment. Using experience from thousands of dental implant procedures, Dr. Holtzclaw pioneered the DIAsmile™ implant teeth-in-a-day treatment concept, which allows patients to receive a new dental implant smile in just one day. With an in-house laboratory utilizing world-class Zirkonzahn® technology, staff oral surgeons, staff prosthodontists, and experienced dental technicians, Austin Dental Implant Center is able to provide industry leading dental implant treatment in one convenient location, eliminating the need for patients to travel to multiple offices, as is required with most traditional dental offices. To learn more about the Austin Dental Implant Center advantage visit http://www.austindentalimplantcenter.com or call 512-375-0050.
Share article on social media or email: