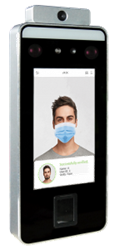 "As times are changing and we adapt to a new normal in workplaces, our team at AMGtime works endlessly to keep our clients safe and protected. Our newly unveiled device is the perfect solution in keeping individuals safe and comfortable when returning to work!"

LOS ANGELES (PRWEB)
July 02, 2020
Global populations are in the process of adapting to the new normal as a result of the COVID-19 pandemic. As businesses re-open, employers must protect their employees, customers, and their liability. The main priority for each employer is opening safely and implementing guidelines in the workplace to prevent the spread of COVID-19.
AMGtime believes the safety and health of their clients come first and in following that belief, they are excited to introduce their completely contactless face and palm verification terminal with temperature and face mask detection.
The all-in-one AMG-FRX5 Face, Palm, Body-Temperature, and Mask Detection Reader is a multifunctional time clock that keeps the workplace safe all around. Administrators can configure settings to receive notifications via mobile app and/or email if an employee has an abnormal temperature reading or attempts to enter a facility without a facial mask.
Users of the device can also set the degree of temperature at which the terminal will validate an individual. Per CDC guidelines, individuals with a reading of 100.4 degrees or higher should be sent home and monitored. Ensuring individuals in your workplace are safe is key and monitoring fluctuations in temperature is important. Managers can pull daily customized reports of employees' temperatures by group, department, or level.
During a recent interview, Tigran Tony Galstyan, president of AMGtime, made these comments: "As times are changing and we adapt to a new normal in workplaces, our team at AMGtime works endlessly to keep our clients safe and protected. Our newly unveiled device is the perfect solution in keeping individuals safe and comfortable when returning to work!"
With the terminal, employees can feel comfortable entering the workplace. Additionally, the device has multiple verification methods: face, palm, fingerprint, and password. Users should keep in mind that the terminal can be integrated with AMGtime's web or computer-based software – time and attendance software for easy workforce management.
The software includes solutions to better manage your entire workforce such as Advanced Workforce Scheduling, which simplifies and automates the process of scheduling employees. Additionally, AMGtime's scalable software includes industry-specific solutions to cater to your needs. The AMG-FRX5 coupled with AMGtime's software is the perfect combination in keeping the workforce organized and the workplace safe for all individuals within a facility.
For complete information, visit: https://amgtime.com/hardware-amg-frx5
AMGtime is a national leader of time, labor management, and scheduling solutions. In addition to scalable software, AMGtime offers a variety of biometric devices and mobile applications. AMGtime offers a variety of innovative industry-specific solutions and is recognized as a preferred partner across multiple industries such as skilled nursing, staffing, construction, hospitality, and more. AMGtime has built many seamless integrations with payroll, HR, and other external software. AMGtime's offerings are adaptable for basic to complex configurations and simple to implement, providing organizations with the highest level of efficiency and ROI. For more information visit http://www.amgtime.com.
Share article on social media or email: