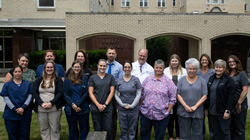 "I always remind my colleagues that if you've seen one brain injury, you've seen one brain injury," said Dr. Franz.

PITTSBURGH (PRWEB)
June 25, 2021
Under the direction of physiatrist Thomas Franz, MD, Allegheny Health Network's (AHN) Allegheny Valley Hospital now offers specialized rehabilitation for patients who have suffered traumatic brain injury.
Brain injury is a complex condition that is unique to each patient and requires a multi-pronged approach to recovery that includes the participation of the patient's support system. "I always remind my colleagues that if you've seen one brain injury, you've seen one brain injury," said Dr. Franz. The issues experienced by brain injury patients run the gamut from mild to debilitating and may include dizziness and balance problems, migraine and headaches, blurred or reduced vision, cognition and memory loss and negative behaviors. "All too often, these deficits are misunderstood by people close to the patient," said Dr. Franz. "Aside from the common shortcomings in memory and cognition, some patients become disinhibited, which leads them to say and do inappropriate things, which can be very disturbing for their friends and family."
Although most brain injuries are the result of trauma, they may also be caused by stroke, meningitis or a tumor on the brain. The majority of patients Dr. Franz and his team of therapists work with are older adults who have sustained brain injury from a standing fall, followed by younger adults in their 20's who have been involved in vehicle crashes.
At just 18 years old, Amanda Allemang was hit by a car while walking down the sidewalk near her Northside Pittsburgh home. When she regained consciousness after being in a coma for seven days, she learned that she'd sustained frontal lobe brain damage, leaving her unable to read, write, walk or talk. After only one week of therapy, she was discharged from the hospital. For the next four years, she struggled with wide ranging physical and cognitive deficits that left her feeling frustrated and depressed. "I'd leave my car running, forget food in the oven, and I could barely stay awake through the day," she recalled. Mounting the stairs to her second-floor apartment left her totally exhausted. Eventually, she was forced to quit her job as a hair stylist.
Then, Allemang learned about the Brain Injury Association of Pennsylvania and connected with a caseworker who took a special interest in her story and gained approval for coverage for her to have 12 months of specialized brain injury rehabilitation. She began comprehensive treatment, comprised of physical, occupational, cognitive and neurologic therapy at AHN West Penn Hospital, where Dr. Franz was overseeing the brain injury program. "And, that's when my life changed," she said.
Today, ten years later, she is married, working as a patient access coordinator in a medical office and facilitating a brain injury survivor group to help others who are traveling the same hard path she did. "I can relate to their issues as they experience the stages of loss—lost jobs, relationships, and the lives we once took for granted, and I don't want anyone else to go through that alone like I did," she said.
Brain rehabilitation at AVH is managed collaboratively by a multi-disciplinary team of specialists, including neurologists, psychiatrists and surgeons, as patients move from trauma care to neuroscience treatment or surgery, then on to inpatient and outpatient rehabilitation. The team of specially trained rehabilitation nurses, therapists, social workers and dietitians work with patients to reach their goals in concentration, memory, swallowing, balance, strength and coordination. Along with various techniques, the therapy team uses specialized technologies, including virtual reality goggles that help keep patients engaged and wireless stimulation devices that assist them in learning to walk again.
Joining Dr. Franz on the AVH team are occupational therapist Elaine Brenneman and physical therapist Susan Little. Both women bring a host of credentials and decades of experience working exclusively with survivors of traumatic brain injury to their roles, which they approach holistically, coaching patients and educating them along their road to recovery. Through her partnership with the Brain Injury Association of Pennsylvania ambassador program, Brenneman works to connect patients with specialized resources to support their continued rehabilitation after their discharge from AVH's program. Little is dedicated to raising awareness about brain injury through ongoing community presentations and classes for students from grade school age to those studying at the post-graduate college level.
While in medical school, Dr. Franz was on track to become a neurologist until his rotation in the rehabilitation department. "Right then, I knew that's where I needed to be, helping people return to their lives," he said.
For more information about traumatic brain injury rehabilitation at Allegheny Valley Hospital, visit (412) DOCTORS or http://AHN.org.
Share article on social media or email: