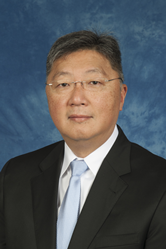 "Both Jefferson and Canonsburg Hospital are vital community resources, and I am excited about the opportunity to help further advance their broader missions in this new leadership role," said Dr. Park.

PITTSBURGH (PRWEB)
June 23, 2020
Allegheny Health Network (AHN) today announced the appointment of Chong S. Park, MD, FACS, as President of Jefferson Hospital and Canonsburg Hospital.
He will assume the new role effective immediately, succeeding Louise Urban, who was appointed as Senior Vice President of Operations for AHN in May.
Dr. Park is a long-time AHN cardiothoracic surgeon, and served as Medical Director of the Cardiovascular Institute at Jefferson. For the past six years, he has also served as Jefferson's Chief Medical Officer, leading the hospital's medical staff and clinical operations, ensuring the highest standards of patients care quality and safety at the hospital and its affiliated facilities across the south hills region.
Dr. Park has been a key member of the clinical leadership team at Jefferson Hospital over the last decade, and has played an important role in the hospital's success since its 2013 affiliation with Allegheny Health Network.
Under his leadership, the quality of Jefferson's cardiac program and medical services overall has received numerous accreditations and honors, including the most recent A grade for safety by the Leapfrog group.
Jefferson Hospital also was the first healthcare facility in Western Pennsylvania to earn the American Heart Association's Mission: Lifeline® Heart Attack Receiving Center accreditation. The hospital's Cardiac Surgical Program also achieved a three-star rating, the highest possible grade, from the Society of Thoracic Surgeons for its excellence in caring for its complex cardiac surgical patients.
"For many years, I have been privileged to part of an extraordinary culture of caring and compassion at Jefferson Hospital that makes a difference every day in the health and well-being of the patients and communities we serve," Dr. Park said. "Both Jefferson and Canonsburg Hospital are vital community resources, and I am excited about the opportunity to help further advance their broader missions in this new leadership role."
Jefferson is a 341-bed tertiary care hospital located in Jefferson Hills, Pa.; Canonsburg is a 104-bed community hospital located in Canonsburg, Pa.
As part of its transformation since affiliating with AHN in 2014, Jefferson has opened a new cancer center, a new obstetrical program and a newly expanded, state-of-the-art emergency department, among other significant capital and programmatic investments. Canonsburg too has added programs in recent years, including cardiovascular and pulmonary rehabilitation programs and an advanced women's imaging center, among other services.
Both Canonsburg and Jefferson also recently enhanced their critical care capacity through a unique partnership with St. Louis-based Mercy Virtual.
Dr. Park lives in Upper St. Clair and is a life-long South Hills resident. He comes from a family of doctors – his father was a prominent heart surgeon in the greater Pittsburgh region, his mother was a radiologist, his brother is a heart surgeon and his sister is a neonatologist.
Cynthia Hundorfean, president and Chief Executive Officer of AHN, said Dr. Park's depth of experience as a clinical leader and his familiarity with the health care needs of the South Hills region makes him uniquely qualified to lead Jefferson and Canonsburg.
"Our network has taken tremendous strides over the last several years in establishing itself as a high-quality, patient-centered provider of choice in Western Pennsylvania," she said. "The leadership of clinicians like Dr. Park has been fundamental to that success. He is an exceptionally talented surgeon and physician executive, and we look forward to the leadership he will bring to this critical role for our organization."
Dr. Park becomes the sixth physician president currently leading an AHN hospital, joining Vicenta Gaspar-Yoo, MD (Allegheny Valley Hospital); Christopher Clark, DO (Saint Vincent Hospital); Mark Rubino, MD (Forbes Hospital), and David Parda, MD (Allegheny General Hospital). Allan Klapper, MD, has also been appointed as president of AHN's Wexford Hospital, which is slated to open in the fall of 2021. Nurse executive Ron Andro is president of West Penn Hospital.
Dr. Park earned his medical degree from Hahnemann University School of Medicine in Philadelphia and completed his post-graduate residencies at Allegheny General Hospital (cardiothoracic surgery) and Brown University (general surgery).
His professional affiliations include memberships in the Allegheny County Medical Society, the Pennsylvania Medical Society, and the Pennsylvania Association for Thoracic Surgery. He also is a fellow of both the American College of Surgeons and the Society of Thoracic Surgeons.
Dr. Park also will continue his clinical practice at Jefferson Hospital in addition to assuming the President role.
###
About the Allegheny Health Network:

Allegheny Health Network (AHN.org), a Highmark Health company, is an integrated healthcare delivery system serving the greater Western Pennsylvania region. The Network is composed of 12 hospitals, ambulatory surgery centers, Health + Wellness Pavilions, an employed physician organization, home and community-based health services, a research institute, and a group purchasing organization. The Network provides patients with access to a complete spectrum of advanced medical services, including nationally recognized programs for primary and emergency care, trauma care, cardiovascular disease, organ transplantation, cancer care, orthopedic surgery, neurology and neurosurgery, women's health, diabetes, autoimmune disease and more. AHN employs approximately 21,000 people, has more than 2,500 physicians on its medical staff and serves as a clinical campus for Drexel University College of Medicine, Temple University School of Medicine, and the Lake Erie College of Osteopathic Medicine.