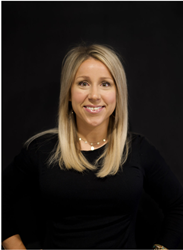 Kristi Raney states, "While it was admittedly challenging to increase staff while preparing for large-scale recruitment, we empowered our experienced team members to take on more advanced roles."

FORT WORTH, Texas (PRWEB)
June 24, 2021
Ventavia Research Group (VRG) is excited to announce Mercedes Livingston as Managing Partner and William Jones as their new COO. While they acknowledge the unfortunate loss in the industry as not all research companies were able to pull through during the pandemic, VRG states the key to their success is internal growth of leadership.
Mercedes Livingston joined at the company's inception, was promoted to COO, and is now a Managing Member alongside Kristi Raney and Olivia Ray. As a seasoned Site Manager in the research industry, Mercedes took a leap of faith 8 years ago when she joined the company with a vision Kristi and Olivia developed. Their goal was to save lives, cure diseases, and manage symptoms while becoming the leading clinical research company in Texas.
William Jones is transitioning to COO where he will utilize his extensive knowledge and skillset while bringing forward operational changes within Ventavia. William has created Ventavia's Quality Assurance/Quality Control, Regulatory and Training departments and implemented processes which will carry into his new role. His prior experiences as a Clinical Research Educator, Sr. CRC, and Quality Data Manager allowed him to sustain initiatives with various medical systems and hospitals across Texas, including Children's Health System of Texas, (formerly, Children's Medical Center of Dallas) in collaborative efforts with UT Southwestern, Texas Scottish Rite Hospital for Children and Parkland
Kristi Raney states, "While it was admittedly challenging to increase staff while preparing for large-scale recruitment, we empowered our experienced team members to take on more advanced roles. We were already expanding, but Mercedes and William's dedication and loyalty go above and beyond. They have changed our future as a company."
Ventavia Research Group hit the ground running in 2013 when they opened their first site location in Fort Worth, TX. They have since expanded to 9 cities across DFW and Houston. They accelerate rapid enrollment for high volume trials while maintaining quality assurance. Their 9 Investigators excel in specialties such as maternal vaccines, pediatrics and healthy patient trials as well as trials for seniors.
VRG shows strength in numbers and experience. They urge you to stay tuned for additional announcements of their growing executive team with key players in the research industry. Mercedes Livingston, Principal Investigators, and other VRG members are available for interview via phone or various other online platforms. Please reach out if you have any inquiries about Ventavia Research Group's capabilities, or if you are interested in collaborating.
Share article on social media or email: