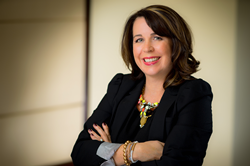 Marty Anderson states, "I am honored and thrilled to lead as CEO of Ventavia Research Group during such exciting times in the research and development industry. With over 28 years in the industry, I feel blessed to have seen the impact of our work to improve patient lives."

FORT WORTH, Texas (PRWEB)
June 29, 2021
Ventavia Research Group (VRG), a leading force in Texas clinical research trials, announces two new leadership appointments today: Marty Anderson as their new Chief Executive Officer and Michelle Rule as Chief Business Officer. Both leaders bring a plethora of experience spanning across clinical trial sites, pharmaceutical, and CRO industries. Ventavia Research Group has been growing steadily while focusing on building new therapeutic expertise and this duo will guide VRG's team with continued strategic growth.
Marty Anderson joins us after 14 years with the Syneos Health family of companies, where she most recently served as Vice President of Clinical Development and the Global Vaccine Lead. She brings over 28 years of global industry experience across all phases of drug development. Marty has a proven track record in providing strong leadership and operational excellence, as well as therapeutic expertise and business development insight to Contract Research Organization (CRO) and Sponsor partnerships. Her peers in the area of Infectious Diseases and Vaccine research state she has demonstrated a commitment to fighting serious infectious threats with a great deal of knowledge, dedication, and passion. She is highly respected within the research industry and was previously recognized by R&D Magazine as a Top 10 Notable Person in Research and Development. In addition, she and Michelle were key leaders in the establishment and maintenance of the Syneos Health Catalyst Vaccine network, where they streamlined vendor, eCRF, and site startup processes to get vaccine studies up and running in under 30 days.
Michelle Rule is an experienced global leader with over 23 years in the clinical research business, whose background spans across clinical trial sites, pharmaceutical, and CRO industries. She was most recently with Syneos Health, where she pioneered a new role in the organization as the first Operational Delivery Head on a large pharmaceutical partnership account. She led a large cross-company team to optimize business processes for a full-service cross-functional, global clinical delivery team, and primed the account for growth and quality delivery of clinical trials. She successfully grew the account in revenue, new awards, and expansion across several therapeutic areas including Oncology, Respiratory, Infectious Diseases, and Vaccines. Michelle is thrilled to bring her industry experience, passion for improving patient lives, and strive for innovative solutions to optimize clinical trials during these dynamic times to VRG.
Ventavia Research Group has displayed sustained and accelerated growth throughout in areas such as maternal vaccines, healthy patient trials, and trials for seniors. Marty states, "I am honored and thrilled to lead as CEO of Ventavia Research Group during such exciting times in the research and development industry. With over 28 years in the industry, I feel blessed to have seen the impact of our work to improve patient lives. I look forward to working with the network of sites to ensure we meet the needs of our volunteers, patients and customers." VRG is delighted to welcome these established leaders to utilize their experience and take Ventavia Research Group into the future as an industry leading clinical research company.
Mercedes Livingston, Principal Investigators, and other VRG members are available for interview via phone or various other online platforms. Please reach out if you have any inquiries about Ventavia Research Group's capabilities, or if you are interested in collaborating.
Share article on social media or email: