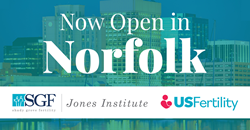 "Among our priorities at US Fertility is to drive innovation by partnering with the best reproductive endocrinology and infertility (REI) programs in the country. The Jones Institute founders have long been known for their brilliant innovative and inventive contributions to our field."

NORFOLK, Va. (PRWEB)
July 07, 2021
US Fertility (USF), the largest physician-owned, physician-led partnership of top-tier fertility practices in the U.S., proudly announces one of its partners, Shady Grove Fertility (SGF), has opened its latest practice at SGF Jones Institute. Marking SGF's 10th Virginia location, patients in the Hampton Roads region have convenient access to premier fertility care at 601 Colley Avenue, Norfolk, VA 23507, with reproductive endocrinologist, Tarita Pakrashi, M.D., M.P.H. on board.
Effective June 30, 2021, SGF's affiliated partner, Eastern Virginia Medical School Jones Institute for Reproductive Medicine (EVMS Jones Institute), has transitioned all patient care to SGF Jones Institute.
The Jones Institute is a respected name in reproductive medicine, stemming from the trailblazing nature of Drs. Howard and Georgeanna Jones who created a legacy for the Jones Institute as a home for many 'firsts,' including the first baby born from in vitro fertilization (IVF) in the United States in 1981.
"Among our priorities at US Fertility is to drive innovation by partnering with the best reproductive endocrinology and infertility (REI) programs in the country," shared US Fertility Chief Executive Officer, Mark Segal. "The Jones Institute founders have long been known for their brilliant innovative and inventive contributions to our field. They're undoubtedly respected for being pioneers of technology and techniques that have helped thousands be able to grow their families."
Marking SGF's 40th location overall and their 10th in Virginia, SGF Jones Institute offers patients throughout the Hampton Roads region a proven record of accomplishment, clinical expertise, and patient-centric approach.
"At SGF Jones Institute, we represent the best of both worlds: SGF brings its cutting-edge medicine to the Hampton Roads region and the Jones Institute is respected as a pioneer of modern fertility technology we use to help grow families today," explains Dr. Pakrashi. "When patients choose SGF Jones Institute, they become a part of this incredible journey, and for that, our care team at SGF is extremely grateful."
SGF Jones Institute Offers State-of-the-Art Fertility Care
SGF Jones Institute, home to SGF's eleventh full-service embryology laboratory, offers comprehensive fertility services, including:

fertility and ovarian reserve testing and diagnosis,

semen analysis,

hysterosalpingogram (HSG),

low-tech fertility treatment options such as intrauterine insemination (IUI),

in vitro fertilization (IVF),

donor egg, sperm, and embryo,

genetic screening and testing,

gestational carrier,

egg freezing,

fertility preservation for patients with cancer, and

LGBTQ family building.

"US Fertility and ultimately SGF saw the Jones Institute as an opportunity to create alignment that would improve access to quality patient care," continues Segal.
Patients seeking fertility care benefit from SGF Jones Institute's wide insurance network and a dedicated Financial Counselor. SGF Jones Institute offers innovative financial programs, including their flagship 100% refund guarantee program for IVF and donor egg treatment, providing patients the reassurance they will either take home a baby or receive a full refund. SGF also supports its military community with income-based and military discounts, to name a few, as well as an exclusive financing partner, Fertility Finance.
To schedule an appointment at SGF Jones Institute, call the SGF New Patient Center at 757-512-8547 or complete this brief form.
About US Fertility (USF)

US Fertility is the largest, physician-owned and physician-led, integrated network of top-tier IVF/fertility practices in the United States, offering comprehensive fertility-market-focused non-clinical, administrative, and technical platforms that help domestic and international practices improve patient outcomes and increase profitability. To learn more about partnership- or affiliate-status benefits, call 914-908-3289 or visit http://www.USFertility.com.
Share article on social media or email: