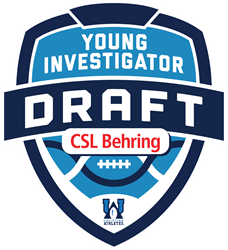 PHILADELPHIA (PRWEB)
March 31, 2021
Uplifting Athletes, a nonprofit organization serving the Rare Disease Community, awarded $140,000 in medical research grants last night at its Young Investigator Draft Presented by CSL Behring. Seven promising young researchers received unrestricted $20,000 grants to support their vital work in finding new treatments—and potentially cures—for the one in 10 Americans with a rare disease. Grant recipients were revealed live and announced by current players from the National Football League (NFL) who have been engaged with Uplifting Athletes since college.
"Our Young Investigator Draft shines a spotlight on the critical need for rare disease research and honors researchers who are making an impact," said Rob Long, Executive Director, Uplifting Athletes. "We believe these all-star scientists deserve to be lauded with the same excitement and fanfare afforded to college and professional athletes, many of whom partner closely with us to leverage their own platforms to support our mission."
The Young Investigator Draft is inspired by the NFL Draft, but shifts the focus from the selection of emerging talent on the football field to recognizing the next generation of promising researchers. The draft is one of several signature initiatives created by Uplifting Athletes to raise awareness and research funding for rare diseases. This year's celebration was held virtually and streamed live across Uplifting Athletes' social media channels.
The 2021 Draft Class receiving grants at the Uplifting Athletes Young Investigator Draft Presented by CSL Behring includes:
Researcher: Peter M.J. Quinn, PhD

Field of Study: Genetics

Institution: Columbia University

Nominated by: Curing Retinal Blindness Foundation
Researcher: Sarah Sheppard, MD, PhD

Field of Study: Genetics

Institution: Children's Hospital of Philadelphia

Nominated by: Lymphangiomatosis & Gorham's Disease Alliance
Researcher: Timothy Hines, PhD

Field of Study: Neuroscience

Institution: The Jackson Laboratory

Nominated by: Charcot-Marie-Tooth Association
Researcher: Qinglan Ling, PhD

Field of Study: Genetics

Institution: University of Texas Southwestern Medical Center

Nominated by: Cure SURF1 Foundation
Researcher: Adele Mossa, PhD

Field of Study: Neuroscience

Institution: Icahn School of Medicine at Mount Sinai

Nominated by: DDX3X Foundation
Researcher: Neha Nagpal, PhD

Field of Study: Genetics

Institution: Boston Children's Hospital

Nominated by: Team Telomere
Researcher: Ukpong Eyo, PhD

Field of Study: Neuroscience

Institution: University of Virginia

Nominated by: SLC6A1 Connect
Grant submissions for the Young Investigator Draft were thoroughly evaluated by an expert panel of scientific advisors, and advanced through two stages of review prior to final selection. Each of the 2021 grant recipients was nominated by a patient advocacy organization (PAO) recognized by Uplifting Athletes as a priority partner for this year's draft, with grants equally co-funded by Uplifting Athletes and the nominating PAO.
Since its inception in 2018, the Young Investigator Draft has awarded more than $440,000 in grant funding to 25 rare disease researchers across North America. CSL Behring has served as the event's title sponsor since year one.
"CSL Behring is proud to continue supporting this unique program that builds enthusiasm for the next generation of biotech leaders and the promise of their research," said Kevin Kovaleski, Vice President, Global Commercial Development, Transplant, CSL Behring. "As a values-based organization, we are really encouraged by this year's Underrepresented Researchers in Medicine initiative to improve inclusion in medical research."
The 2021 draft marked the first to highlight Uplifting Athletes' Underrepresented Researchers in Medicine (URM) initiative. The URM initiative aims to provide opportunities for rare disease researchers from diverse backgrounds, and to celebrate and fund their work through the draft. Uplifting Athletes aspires to lead the change in representation in medicine and medical research, and help all rare disease patients feel represented and inspired by the Young Investigator Draft honorees.
Joining Long and Kovaleski in announcing the 2021 Draft Class were seven NFL players who have continued to support Uplifting Athletes' mission since their college experience with the nonprofit. Presenters included Ryan Bates (Penn State/Buffalo Bills), Shaun Bradley (Temple/Philadelphia Eagles), Joe Charlton (South Carolina/Carolina Panthers), Brandon Copeland (Penn/Atlanta Falcons), John Lovett (Princeton/Green Bay Packers), Riley Dixon (Syracuse/New York Giants), and Trace McSorley (Penn State/Baltimore Ravens).
Long played college football at Syracuse University and was slated to be the top punter in the 2010 NFL Draft Class before he was diagnosed with anaplastic astrocytoma—a rare and aggressive brain tumor. He is here today because of science, and remains passionately committed to helping others with rare diseases.
"During my own journey, I became keenly aware of the heroes going to battle for me―the rare disease researchers working tirelessly to save my life and the lives of others," said Long. "And I learned that rare disease research is extremely limited due to the lack of financial incentive to develop and market new treatments for small populations. Uplifting Athletes is proud to help fund critically needed research for the 30 million Americans living with a rare disease. And we're excited to welcome to the team these seven brilliant young scientists who comprise our 2021 Draft Class."
A complete recording of the Uplifting Athletes 2021 Young Investigator Draft Presented by CSL Behring will soon be available for viewing on the organization's website at upliftingathletes.org.
About Rare Diseases
A rare disease is defined as one that impacts fewer than 200,000 Americans annually. These diseases are often chronic, progressive, degenerative and life-threatening. Collectively, there are approximately 7,000 rare diseases affecting more than 30 million Americans—one in every 10 individuals. More than half are children, 30 percent of whom will not live to see their fifth birthday. Unfortunately, research for rare diseases is extremely limited due to the lack of financial incentive to develop and market new treatments for small populations.
About Uplifting Athletes
Uplifting Athletes aims to inspire the Rare Disease Community with hope through the power of sport. The nonprofit organization engages student and professional athletes in realizing the impact of using their own powerful platforms to give voice to the 30 million Americans diagnosed with rare diseases. With the support of 23 college football chapters led by student-athletes, a dedicated team of more than 80 ambassadors playing in the National Football League, and an expansive community of athletes at all levels, Uplifting Athletes has raised more than $5 million toward its mission since it was established in 2007. Programs include Rare Disease Awareness, Rare Disease Research, Uplifting Leaders and Uplifting Experiences, with several signature initiatives falling under these banners. To learn more, visit upliftingathletes.org.
About CSL Behring
CSL Behring is a global biotherapeutics leader driven by its promise to save lives. Focused on serving patients' needs by using the latest technologies, CSL Behring develops and delivers innovative therapies that are used to treat coagulation disorders, primary immune deficiencies, hereditary angioedema, respiratory disease, and neurological disorders. The company's products are also used in cardiac surgery, burn treatment and to prevent hemolytic disease of the newborn.
CSL Behring operates one of the world's largest plasma collection networks, CSL Plasma. The parent company, CSL Limited (ASX:CSL;USOTC:CSLLY), headquartered in Melbourne, Australia, employs more than 27,000 people, and delivers its life-saving therapies to people in more than 100 countries. For inspiring stories about the promise of biotechnology, visit Vita CSLBehring.com/vita and follow CSL Behring on Twitter.com/CSLBehring.
Contacts
FOR UPLIFTING ATHLETES                    

Tracy Simon         

267-679-2774

tracy@tlsimonpr.com    
Barbara Link    

610.668.2855        

barbara@linkink.com
FOR CSL BEHRING

Jennifer Purdue

610.306.9355

jennifer.purdue@cslbehring.com