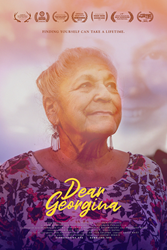 She was witness to a lot of things in her youth. So from that moment when the film premiered was good healing. To see herself on that screen was good medicine. Even though she isn't with us today, it still means the world to know Dear Georgina is being shared and that she is still being heard.

LOS ANGELES (PRWEB)
May 07, 2021
Dear Georgina, a short documentary about Passamaquoddy elder Georgina Sappier-Richardson who was removed from her home and community in downeast Maine by child protection services at the age of 2, had streaming launch today in honor of Mental Health Awareness month. The film follows Georgina as she attempts to re-integrate herself into the community she barely knew. It can be streamed for free on Upstander Project at: upstanderproject.org/georgina.
Directed by award-winning filmmakers Adam Mazo and Ben Pender-Cudlip and produced by Upstander Project and producers N. Bruce Duthu and Tracy Rector, Dear Georgina is a follow-up to the Emmy® award-winning documentary, Dawnland (2018), in which Georgina told a portion of her harrowing story of surviving foster care.
"Mom had a special quality to her. She talked to and listened to anybody. Storytelling was always part of her healing," said Dwight Parrett, Georgina's son. "She was witness to a lot of things in her youth. So from that moment when the film first premiered at Camden [International Film Festival] was good healing. For her to see herself on that screen was good medicine. Even though she isn't with us today, it still means the world to know that Dear Georgina is being shared widely and that she is still being heard."
A series of community-focused preview screenings and panel discussions will lead up to the wide release of Dear Georgina including a special screening on April 28th with Portland Press Herald and the Abbe Museum. The screening will be followed by a live Q&A with Penobscot Nation Tribal Ambassador Maulian Dana and filmmaker and Upstander Project director Adam Mazo, moderated by Portland Press Herald Arts Reporter Bob Keyes.
"Georgina's experiences and way of storytelling resonated so deeply with us. Our hope is that viewers will be inspired by Georgina to explore their own family history's and hear stories from their elders. We have witnessed how Georgina's healing process has encouraged others to share their stories and there is medicine and power in that experience for the storyteller and those listening. Our highest aspiration is that watching Dear Georgina prompts deep reflection and societal change to address the ongoing crisis of Indigenous child removal," said film co-director and producer Adam Mazo.
A companion viewer's guide to Dear Georgina was developed by Dr. Mishy Lesser to help educators and viewers understand how historical and intergenerational trauma impacts the emotional lives of children and young people. It also links Georgina's story to the more recent separation of children from their families at international borders. "Some teachers recognize they don't have the lived experiences of their students and need to understand what students and their families have survived. The film helps them do that," says Lesser. According to Judi Freeman a high school history teacher in Boston, "What's great about this film for educators is that it digs deep into … one woman's story particularly when she is the age of many of my students. Everything about the film is centered on Georgina's testimony and perspective. We hear her pain, we consider the 'what ifs' and we feel her humanity as she tries to reconcile her life experience and her identity."    
Dear Georgina had its world premiere in 2019 at the Camden International Film Festival with Georgina in attendance. Since then, the film has screened at over 20 film festivals around the globe.
For the viewer's guide and more information about the film, please visit: https://upstanderproject.org/georgina
###
ABOUT UPSTANDER PROJECT

Upstander Project was founded in 2009 by filmmaker Adam Mazo and educator and curriculum designer Dr. Mishy Lesser. Upstander Project films focus on ignored social histories past and present and their companion teaching guides support educators committed to using film in their classrooms to teach hard history. Dawnland, First Light and Dear Georgina – about the historic Maine-Wabanaki Truth & Reconciliation Commission and healing from trauma – focus on the forced removal and assimilation of Wabanaki children in Maine while illuminating the survival and cultural heritage of Native Americans. Upstander Project films have won numerous awards including the 2019 National News & Documentary Emmy® Award for Outstanding Research for Dawnland. The films have been seen by millions on PBS's Independent Lens, at international film festivals, conferences, and museums and the standards-aligned teaching guides are used in thousands of classrooms.
ABOUT DEAR GEORGINA — SYNOPSIS

In 1941 at age two Georgina Sappier-Richardson was removed from her home and Passamaquoddy community in downeast Maine by child protection services. She spent the next 16 years in 4 different foster homes. Terror and abuse followed, and she never saw her parents again. Georgina is just one of countless thousands of Indigenous children with similar stories.
DEAR GEORGINA follows this Passamaquoddy elder from Motahkomikuk as she tries to fill in the blurry outlines of her identity. Now a grandmother and summer visitor to her home community, Georgina attempts to re-integrate.
She remembers, "When I was 30 years old and I went back to the reservation this Indian lady told me, 'You look exactly like your mother as a young person.' So that made me feel special, made me feel real."
But despite her gregarious personality and infectious laugh, she remains an outsider straddling two different worlds. This propels Georgina's lifelong mission to find herself. At the end, Georgina travels to her foster community in northern Maine. Determined to reclaim some fragment of her lost childhood she makes an incredible discovery, but will it help heal decades old wounds?
Share article on social media or email: