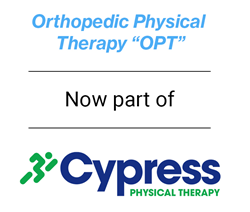 Cypress PT provides us with additional resources, creating more time for us to focus intently on what matters most – our patients. We can now spend more time on enhancing the relationships we have built with both our patients and our community

GREENFIELD, Mass. (PRWEB)
March 31, 2021
Cypress Physical Therapy is pleased to announce that it has partnered with Orthopedic Physical Therapy ("OPT"). For decades, OPT has provided exceptional care to patients in Western Massachusetts. This partnership will capitalize on each organization's commitment to providing accessible, quality care—combining the strengths of both Cypress Physical Therapy and Orthopedic Physical Therapy to optimize patient services and encourage growth and success.
Elizabeth ("Liz") Dolby, PT, former owner of OPT, joins the Cypress Physical Therapy team as Managing Partner of both the Greenfield and Athol locations. Liz has a passion for treating a wide range of patients, with industrial medicine being her specialty. She has created and implemented stretching programs for multiple industries including Yankee Candle, Charter Next Generation, 253 Organics, Hillside Plastics and Nutri-Systems Meals on Wheels. "I love working in industry and teaching people about how their ergonomics and postures, can help them avoid injuries." Liz's passion for exercise has extended through decades from teaching fitness classes to developing sport specific exercise programs. "How lucky am I to be able to say, 'I still love what I do.'"
"Liz is a great addition to our team. Her enthusiastic approach to patient care is contagious. We are excited to have her and the OPT team join Cypress PT," says Dr. Steve Windwer, founder and CEO of Bay State Physical Therapy, and President of Cypress Physical Therapy. "Liz's desire to grow as a professional and with her team, as well as her expertise and leadership in the field, is exactly what we are looking for in this partnership."
"Our team is excited about this opportunity with Cypress Physical Therapy," says Liz Dolby. "Cypress PT provides us with additional resources, creating more time for us to focus intently on what matters most – our patients. We can now spend more time on enhancing the relationships we have built with both our patients and our community."
About Cypress Physical Therapy

Cypress Physical Therapy is a sister company to Bay State Physical Therapy. Headquartered just outside of Boston, MA, Bay State Physical Therapy ("Bay State") is a leading provider of physical therapy and chiropractic services throughout New England. Bay State's mission is to be devoted to the health and wellbeing of our patients by offering exceptional, innovative rehabilitation services, to restore each individual's maximal function with integrity and compassion. Bay State supports its partners and affiliates by investing in the resources, operating expertise, and systems to allow therapists to focus on the patient and the provision of clinical care.
For career opportunities with Cypress Physical Therapy or Bay State Physical Therapy please visit our Job Opportunities page.
To learn more about partnering or transitioning with Cypress Physical Therapy or Bay State Physical Therapy, visit our Partnership Opportunities page or contact Brady Hill, Vice President of Corporate Development, bhill@cypress-pt.com.
Share article on social media or email: