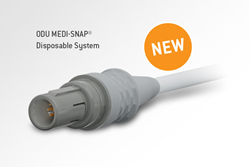 CAMARILLO, Calif. (PRWEB)
July 22, 2021
ODU USA has introduced the addition of the ODU MEDI-SNAP® Disposable System Solution to its medical connector product offering for the North American medical device market. This connector provides the electrical and design engineers from medical device manufacturers with cost-effective options for single-use connector systems. The ODU MEDI-SNAP® Disposable connectors are ideal for medical procedures that require high reliability and high performance.
The ODU MEDI-SNAP® Disposable System is a lightweight, circular, plastic connector with Break-Away locking and a disposable receptacle, in straight and right-angled options, for front panel installation. The system accommodates up to 25 mating cycles, allows two to eight positions, is IP67 rated, and is available in two color options: white or gray. ODU USA provides complete cable assembly solutions, cable UL-Style 2464, with flexible lengths. Additionally, this system is customizable by our expert connector and cable engineering teams to meet specific medical device design requirements.
The ODU MEDI-SNAP® Disposable System Solution offers an an economical connector system for medical applications that require high-volume interconnects, including patient monitoring, electro physical therapy, dermatology, endoscopy, catheterization, respiratory delivery, and dental applications.
For more information on the ODU MEDI-SNAP® Disposable System please visit ODU-USA.com.
ODU Group: Global Representation with Perfect Connections

The ODU Group is one of the world's leading suppliers of connector systems, employing 2,300 people around the world. In addition to its company headquarters in Mühldorf am Inn (Germany), ODU also has an international distribution network and production sites in Sibiu/Romania, Shanghai/China and Tijuana/Mexico. ODU combines all relevant areas of expertise and key technologies including design and development, machine tooling and special machine construction, injection, stamping, turning, surface technology, assembly and cable assembly. The ODU Group sells its products globally through its sales offices in China, Denmark, England, France, Germany, Hong Kong, Italy, Japan, Korea, Romania, Sweden and the US, as well as through numerous international sales partners. ODU connectors ensure a reliable transmission of power, signals, data and media for a variety of demanding applications including medical technology, military and security, automotive, industrial electronics, and test & measurement.
Share article on social media or email: