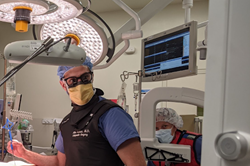 Our vision of digital surgery is taking shape, and efficient 3D imaging is at the center of it

DALLAS (PRWEB)
June 20, 2021
The nView s1, nView medical's breakthrough imaging system reached its 50th surgery. Twelve surgeons across three leading pediatric hospitals have used nView's insta-3D™ technology on procedures ranging from spinal deformity corrections, to discectomies, periacetabular osteotomies and extremity procedures.
nView medical CEO, Cristian Atria, commented: "To celebrate the 50th surgery milestone we gave the nView s1 new capabilities to further improve accuracy and operating room efficiency. We are now using AI to augment surgeon's understanding of 3D images, and full-body scanning to provide confirmation and quantification of deformity corrections. But what we are most excited about is that we are making the nView s1 a GPS-like device for surgeons with our 3D images being used as maps. What makes nView's approach a breakthrough is that with insta-3D™, images can be taken on the fly during surgery, providing a true representation of the anatomy when navigating. We call this approach true-map navigation™".
The nView s1 with true-map navigation™ was first unveiled at the Pediatric Orthopedic Society of North America (POSNA) 2021 annual meeting in May, and used in a bioskills training lab at one of our pilots in June. nView medical has filed the nView s1 with navigation for FDA approval.
"Our vision of digital surgery is taking shape, and efficient 3D imaging is at the center of it. We are making a difference for patients, one patient at a time, with each surgery we do. 50 surgeries is only the beginning," Cristian Atria concluded.
nView medical, based in Salt Lake City, UT, is a startup whose mission is to make surgery safer, faster, and consistently accurate. nView develops imaging and guidance systems, bringing breakthrough AI solutions for image creation and visualization to surgery. nView medical backers include; the National Science Foundation (NSF), the National Institutes of Health (NIH), the State Of Utah, the National Consortium for Pediatric Device Innovation, HealthTech Arkansas, MedTech Innovator, Dr. Kevin Foley, and Fusion Fund.
Share article on social media or email: