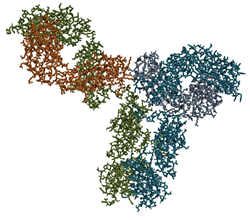 The QumAb technology represents a significant advance and will help NovalGen develop life changing therapeutics for a range of disorders with unmet clinical need.

OXFORD, United Kingdom (PRWEB)
October 06, 2020
A new generation of antibody variant developed by mAbsolve has been licensed to Novalgen for evaluation in their pipeline of therapeutic antibodies for treatment of cancer, leukaemias and cardiovascular disease.
QumAb™ is a small variation to the natural antibody structure which eliminates the unwanted inflammatory responses often associated with antibody therapy. In some situations, these responses are beneficial, but often they lead to unpleasant, even dangerous side-effects.
Previous work met with some success, and today about 50% of therapeutic antibodies in development include some sort of alteration to mitigate unwanted side-effects. However, these approaches do not solve the problem completely. QumAb builds on this previous work to provide a complete Fc-silencing solution with excellent manufacturability properties.
Dr Ian Wilkinson, inventor of the QumAb technology, said: "After working with numerous pharma and biotech companies using the earlier methods with limited success, I became convinced that a better solution was possible. I went back to first principles to design and screen a large panel of variants from which QumAb was discovered. I am delighted that in such a short time the new technology is being taken into commercial development."
Prof Geoff Hale, CEO of mAbsolve, said: "I have devoted my career to the development of therapeutic antibodies, and while we saw some success, many promising antibody drugs were discarded because of unacceptable levels of inflammatory response. QumAb is the best solution to this problem that I have seen and I am thrilled to be working with Novalgen as the first adopter of this new technology."
Mr Nilesh Modi, COO of Novalgen, said: "I'm delighted to be working with the newly formed mAbsolve team, who individually have fantastic track records. Licensing the QumAb antibody silencing solution will add to our array of technologies and we hope will help us develop safer antibody therapies, and will deliver the life-changing treatments that many patients desperately need.."
Prof Amit Nathwani, CEO and Founder of Novalgen. Professor of Haematology, University College London said: "The QumAb technology represents a significant advance and will help NovalGen develop life changing therapeutics for a range of disorders with unmet clinical need. We are excited to be working in partnership with mAbsolve."
Prof Kerry Chester, Chief Scientific Officer of Novalgen and Professor of Molecular Medicine, University College London said: "We are thrilled to be early adopters of the QumAb Fc-silencing technology. I have every confidence in the mAbsolve team and believe that QumAb technology will be a critical part of new antibody-based therapies."
Share article on social media or email: