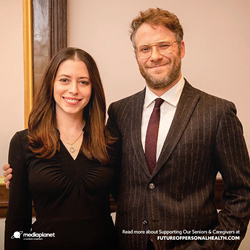 "Let's bring more light to the darkness through the families that we can help, and the work that we can do together to end Alzheimer's." — Lauren Miller Rogen

NEW YORK (PRWEB)
July 06, 2021
Mediaplanet today announces the launch of its cross-platform campaign "Supporting Our Seniors & Caregivers." This campaign will educate readers on some of the most common problems our senior citizens face, and will raise awareness about the solutions that can be taken to combat these issues. It will also provide support to those caring for seniors by highlighting the resources available for understanding how to balance their own life and role as a caregiver simultaneously.
According to the National Council on Aging, about 92 percent of seniors have at least one chronic disease and 77 percent have at least two. Some of the most common health problems in the elderly include: dementia and Alzheimer's, Parkinson's, osteoporosis, depression, and balance issues. Furthermore, at any given time, over 65 million people are providing care for a chronically ill, disabled, and/or senior family member or friend. Caring for an aging loved one can cause a great deal of stress and it is important for our caregivers to be made aware of the additional support and self-care resources to help maintain their own personal health.
The print component of "Supporting Our Seniors & Caregivers" is distributed within USA TODAY in the Chicago, Los Angeles, Minneapolis, New York, and Washington DC/Baltimore markets, with a circulation of approximately 200,000 copies and an estimated readership of 750,000. The digital component is distributed nationally through a vast social media strategy, and across a network of top news sites and partner outlets. To explore the digital version of the campaign, visit http://www.futureofpersonalhealth.com/senior-health.
Comedian and actor Seth Rogen, and screenwriter, actress, and director Lauren Miller Rogen, grace the cover of the print publication. Early in the couple's relationship, Lauren's mother was diagnosed with Alzheimer's disease. From that moment on, Seth and Lauren have used their platforms to raise awareness for the disease and inspire others to do the same.
In 2012, the couple founded the non-profit Hilarity for Charity (now known as HFC) to raise Alzheimer's awareness, create accessible brain health education tools, provide home care for people who can't afford it, and invest in prevention research. Alzheimer's is an isolating disease that often isn't talked about in the same manner as other illnesses. This stigma can prevent people from seeking out the support and resources they need, which makes raising awareness critical for delivering the best care. As Lauren Miller Rogen says, "Let's bring more light to the darkness through the families that we can help, and the work that we can do together to end Alzheimer's."
This campaign was made possible with the support of the Alzheimer's Association, Alzheimer's Foundation of America, Caregiving Club, American Bone Health, National Osteoporosis Foundation, Parkinson's Foundation, American Parkinson's Disease Association, Seth Rogen and Lauren Miller Rogen, HFC, Montana Tucker, Eli Lilly & Company, Atria Senior Living, Scootaround Inc., and Retirement Planners of America.
About Mediaplanet

Mediaplanet specializes in the creation of content marketing campaigns covering a variety of industries. We tell meaningful stories that educate our audience and position our clients as solution providers. Our unique ability to pair the right leaders with the right readers, through the right platforms, has made Mediaplanet a global content marketing powerhouse. Our award-winning stories have won the hearts of countless readers while serving as a valuable platform for brands and their missions. Just call us storytellers with a purpose. Please visit http://www.mediaplanet.com for more on who we are and what we do.
Insert Press Contact:

Samantha Jahoda

samantha.jahoda@mediaplanet.com

Share article on social media or email: