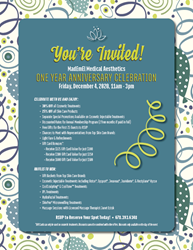 We are incredibly excited for our Anniversary Celebration!

LAWRENCEVILLE, Ga. (PRWEB)
November 12, 2020
MadEmEl Medical Aesthetics is excited to announce their upcoming One Year Anniversary Celebration. The event will be held on Friday, December 4th, 2020 at their office in Lawrenceville. MadEmEl is a full-service medical spa offering award-winning cosmetic treatments and skin care products to boost the self-confidence and overall wellness of their patients.
Guests in attendance can enjoy special gift card bonuses, chances to meet with representatives from top skin care brands, and consultations with the cosmetic providers at MadEmEl! As a special treat, there will be several raffles to win a huge selection of cosmetic goodies including cosmetic injectables like Botox®, cosmetic laser treatments, CoolSculpting® cycles, a complimentary massage treatment with their licensed massage therapist, and more. All guests will receive a complimentary raffle ticket upon arrival and additional tickets will be available for sale during the event. Food, wine, and cocktails will be provided! COVID-19 safety measures including social distancing and mask wearing will be practiced to help promote the health and safety of everyone in attendance.
In honor of the special occasion, MadEmEl will be offering guests in attendance 30% off a huge selection of cosmetic treatments. This includes, CoolSculpting®, laser hair removal, SkinPen® Microneedling, cosmetic laser treatments from Lumenis®, and more. 30% off sale does not include cosmetic injectable treatments such as Botox® Cosmetic Injections and Restylane® facial fillers, which will have their own separate special promotions. Additionally, all skin care products from top brands including Revision Skincare® and ZO® Skin Health will be 25% off when purchased at the event (or pre-ordered by phone or email for one week leading up to the event).
"We are incredibly excited for our Anniversary Celebration," says Dr. Kristine Gould, MadEmEl Medical Aesthetics founder. "It has been a crazy, unique year, but we are so grateful to all of our wonderful patients and this celebration event is a way to reward them for their loyalty and support. We can't wait to celebrate and toast to many more successful years to come."
About MadEmEl Medical Aesthetics
MadEmEl Medical Aesthetics is a full-service medical spa in Lawrenceville, GA specializing in advanced cosmetic treatments for the face and body. Owned and operated by Dr. Kristine Gould, MadEmEl is focused on using cosmetic treatments and services to accentuate the overall health and wellness of their patients. MadEmEl offers a wide selection of FDA-approved skin care treatments and non-surgical anti-aging services including cosmetic injectable treatments, cosmetic laser treatments, chemical peels and facials, microneedling, CoolSculpting®, and much more. All treatments and services at MadEmEl are performed by certified and experienced aestheticians, nurse practitioners, and medical assistants.
To learn more about the treatments at MadEmEl or to schedule a complimentary consultation appointment, visit https://mademelmedspa.com or visit them in-person.
Share article on social media or email: