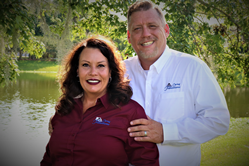 We are looking forward to helping seniors and families get through the transitions they are facing with as little stress as possible. Caring Transitions isn't just a relocation company – we are a one-stop solution for the entire transitions process. – Ronnie McKillip

THE VILLAGES, Fla. (PRWEB)
May 04, 2021
When Ronnie McKillip was working as a liaison for the VA, he saw a huge need for a company to help families deal with life's transitions.
"Helping someone get the care they need while dealing helping them into the best living situation can be a challenge. My work in the medical sector opened my eyes to the gaps in continuity of care, firsthand. It was during this time that I began to see a lack of services, particularly for individuals who lived independently from their family. I met many veterans who, after hospital stays, needed assistance in downsizing or transitioning living arrangements for safer and more mobile friendly environments. In my search to find all-inclusive services for some of my patients, I found the Caring Transitions franchise and immediately knew that is how I wanted to invest my time and talent to work with families during the most important transitions of their lives," Ronnie said.
Now Ronnie and his wife, Pam McKillip, are pleased to announce that they are opening a new senior-focused relocation and estate clearing company to meet that need – Caring Transitions of The Villages. Caring Transitions' specially-trained professionals handle every detail for their clients' transitions, including decluttering, organizing, packing, move management, unpacking and resettling, cleanouts, and both in-home and online estate sales.
"We are looking forward to helping seniors and families get through the transitions they are facing with as little stress as possible. Caring Transitions isn't just a relocation company – we are a one-stop solution for the entire transitions process," Ronnie said.
Ronnie was born and raised in Key West, Florida and joined the Army at 17 where he became an Army Ranger and then transitioned to Special Forces as a Green Beret. He was deployed during the invasion of Panama, served in Desert Storm, and was awarded the Bronze Star. After leaving the military, he served in the private sector in marketing and sales and raised four children on a variety of Army bases and then in Texas. He returned to Florida in 2007 and made his home in Ocala where he began working in home health and then as a rehabilitation liaison. The medical sector fueled his desire to help others and he created programs that focused on maximizing service to patients while looking for unique and innovative ways to offer continuity of care.
Pam spent 20 years in education, including five years as the principal for The Villages Charter Middle School, and then as a district administrator in Marion County. She have been a resident of Marion County for over four decades and have loved the area and the people here. The past six years, she has worked in the corporate education field. She graduated from Florida State with a Chemistry degree and then the University of Florida with a Doctorate in Education. After struggling to downsize and move her own mother into assisted living, she knew that there was value in offering a one-stop-shop for everything a family needed during the most important transitions of their lives.
"We've been on board to bring this service to The Villages, Leesburg, Oxford and Wildwood since last spring, but COVID put our plans on the backburner until now. We know transitions can be traumatic for seniors and families – there is a lot that goes into relocating or clearing an estate – and we are here to help," Pam said.
Caring Transitions' services are perfect for managing the many aspects of a senior move or with those who are in the process of downsizing. They also help busy families with clearing out the home of a loved one who has moved into assisted care or has passed away. All of Caring Transitions' services are customizable, so clients choose the solution(s) that best fits their needs.
Caring Transitions of The Villages is fully bonded and insured and all employees are background checked. For additional information, call 352-432-8079, email RMcKillip@caringtransitions.com or visit http://www.CaringTransitionsTheVillages.com.

Share article on social media or email: